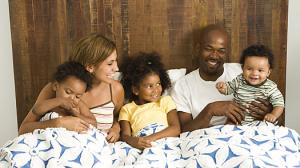 This is one of the better articles I've seen addressing part-member families from the Ensign. Super helpful that they spoke with a colleague and friend that I trust and have presented at national organizations with – Dr. Adam Fisher of the Family Institute at Northwestern University. He has done some great research in the area of mixed-faith relationships.
One of my favorite quotes: "When ward members show part-member families love, hearts can soften and strong relationships can form, regardless of whether or not the nonmembers of the part-member families join the Church." Not having an agenda of changing someone else's beliefs to more align with our own is a great reminder as we learn how to more successfully navigate relationships and build trust.
Living the Gospel Alone in your Family
I would love to hear from readers… What do you like or dislike about the article? What is worded well or could be worded better? What types of experiences have you had in your life that resonate with the intent of the article? Most of us have family members or friends who do not share our religious/spiritual beliefs (or non-belief)… What types of things have you found helpful in managing these situations? What hasn't been helpful (either coming from you, or from others towards you)? I've learned that listening to each other and honoring each other's experiences goes a long way in helping us all have better skills and resources. Hope you'll share some of your thoughts in the comments section.
Natasha Helfer Parker, LCMFT, CST can be reached at 
natashaparker.org
 and runs an online practice, 
Symmetry Solutions
, which focuses on helping families and individuals with faith concerns, sexuality and mental health. She hosts the 
Mormon Mental Health
 and 
Mormon Sex Info
 Podcasts, writes a regular column for 
Sunstone Magazine
 and is the current president of the 
Mormon Mental Health Association
. She has over 20 years of experience working with primarily an LDS/Mormon clientele.