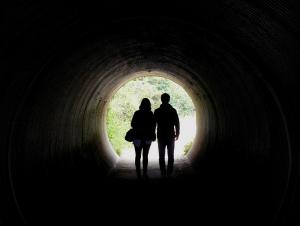 I just came across this song for some reason… everyone else seems to know about it but me.
It really hit me viscerally to my very core.
In the context of faith transitions… makes me extremely emotional. The fears we all share. The scripts we all grow up with. The many ways vulnerability gets squashed because of what we think we know or think we should believe. Or what others expect from us. At the end all we really want is love and acceptance… to give and to receive. I hope my loved ones know that I will follow them… even into the dark. Heaven and hell (mostly concepts we only understand through other peoples' perspectives)… can't stop me or limit me from doing so.
So sad to me that any of our religious creeds would get in the way of our most precious relationships. Or that fear would be seen as a form of love. Or a form of getting people to comply towards some correlated ending we assume is best. So relevant to Brene Brown's work I'm currently immersed in.
If that's what these concepts lead us to… heaven and hell be damned.
Natasha Helfer Parker, LCMFT, CST can be reached at 
natashaparker.org
 and runs an online practice, 
Symmetry Solutions
, which focuses on helping families and individuals with faith concerns, sexuality and mental health. She hosts the 
Mormon Mental Health
 and 
Mormon Sex Info
 Podcasts, writes a regular column for 
Sunstone Magazine
 and is the current president of the 
Mormon Mental Health Association
. She has over 20 years of experience working with primarily an LDS/Mormon clientele.
Read more at http://www.patheos.com/blogs/mormontherapist/2017/09/little-cup-mercy.html#KPgKqsBKwD0bJtPu.99