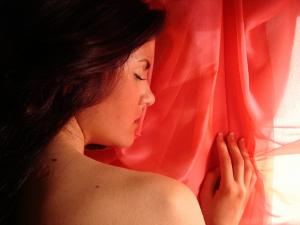 I am always amazed at the work people are willing to do within the walls of my office. I especially love when couples come equipped to better their sex lives within the constructs of their experiences, their values, their hopes and their desires within their marriage. This takes extreme amounts of vulnerability, risk-taking and communication within a space that we take great efforts in making safe for each partner. From time to time I'll share an example of the types of work people do in hopes that it will motivate many of you readers to prioritize this important part of your lives and also give you ideas as to how to move forward in sex-positive ways.
The following excerpt came from a writing assignment I gave to an LDS woman who is trying to be more present in regards to her body's arousal and desire responses. She felt like she had a lot of baggage getting in the way of being able to enjoy her husband and their sex life together. After several months of working together, this is what she came up with – which is phenomenal. This is relational and spiritual work in my book. I have permission to share this anonymously.
Thinking of your breath behind me… on my neck… as you pull me closer…
Thinking of your hands lightly brushing over my breasts… as you pull me closer… 
And my nipples cannot help but react… and tighten… into pointed targets of pure pleasure…
And then my core awakens… and reacts as well…
My insides melting… and aching.. and complaining of the emptiness present…
Wherein then my hips react… with movement.. circular movements… meant to draw you closer… with the effect of my backside arching up to meet you… meant to arouse you…
And then feeling your arousal up against me… 
Mmmmm…. and the wetness that follows… prepared to meet you.. to let you… 
All from a simple brush of your hand.
Please remember that this is one woman's experience. It is hers and not meant to be anyone else's. Your own work would look different and unique according to you. Please don't ever share anything like this to shame a spouse in regards to their own sexual journey.
Natasha Helfer Parker, LCMFT, CST can be reached at natashaparker.org and runs an online practice, Symmetry Solutions, which focuses on helping families and individuals with faith concerns, sexuality and mental health. She hosts the Mormon Mental Health and Mormon Sex Info Podcasts, writes a regular column for Sunstone Magazine, is the current president of the Mormon Mental Health Association and runs a sex education program, Sex Talk with Natasha. She has over 20 years of experience working with primarily an LDS/Mormon clientele.