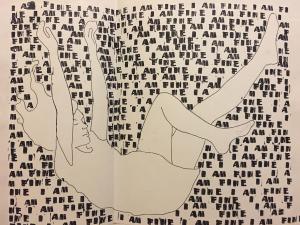 I was touched by a Facebook post today where one of my friends shared in a vulnerable way her past struggles with suicidal ideation and coming on an anniversary date of a hospitalization. I share in hopes that others in similar situations can feel less alone. Please note the added burden of identifying as gay in our LDS community… as well as ecclesiastical counsel received that was not helpful.
Today's guest post is written by Kendra Ogzewalla. Opinions shared on guest posts may not completely reflect the positions of the blog's author.
Kendra Ogzewalla was raised in the Mormon church, is a child care provider and a multi-media artist.
Facebook memories reminded me today that this time six years ago was when I was hospitalized because I was suicidal. It shared with me this tiny little tidbit of a conversation from when a group of my dear friends, including my home and visiting teachers, came to visit me in the hospital. I remember knowing that I was overwhelmingly loved as they sat with me in that brightly lit hospital room and joked with me to make me laugh.
As loved as I was, I was also broken, and afraid, and very, very lost. Six years ago, I was still trying my hardest to be the Good Mormon (TM) that I'd been raised to be. Still in denial about the fact that I was gay. Still believing that if I could just be more faithful, more Christ-like, more obedient, more grateful, if I could just work harder, and serve more, then God would surely bless me with the emotional wellness I so desperately sought. I just wanted to be okay. And I wholeheartedly believed what I'd been taught: that the fact that I wasn't was because I lacked faith.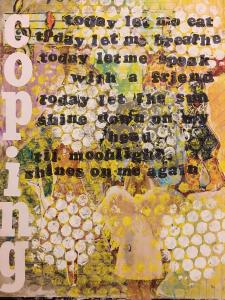 Here's a friendly reminder that you can't treat C-PTSD (complex post-traumatic stress disorder) with depression medication and prayer. Trauma therapy saved my life. And trauma therapy continues to save my life. I'm still here. I've made it this far. That's something to be grateful for.
Only a handful of people knew what was happening in my life in 2012. This quote -When life gives you lemons, make salad!- is literally all I posted about it at the time. I'd been given "spiritual counsel" not to talk about it, which not only delayed me getting an accurate diagnosis for years, but also resulted in me feeling super isolated and relying incredibly heavily on too few people. Some very meaningful relationships broke under the weight of me trying to follow that advice.
Speaking my truth is still relatively new for me, but I'm trying. I don't want to hide or pretend anymore. So telling this story, even though it's six years later, is what healing looks like for me today.
Natasha Helfer Parker, LCMFT, CST can be reached at natashaparker.org and runs an online practice, Symmetry Solutions, which focuses on helping families and individuals with faith concerns, sexuality and mental health. She hosts the Mormon Mental Health and Mormon Sex Info Podcasts, writes a regular column for Sunstone Magazine, is the current president of the Mormon Mental Health Association and runs a sex education program, Sex Talk with Natasha. She has over 20 years of experience working with primarily an LDS/Mormon clientele.