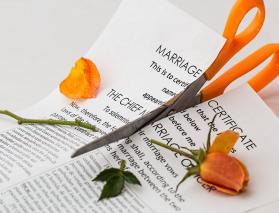 I really struggle with the stigma I feel at church since I've recently gone through a divorce. Not only have people said really hurtful things about how we have "failed" and how we are now a "broken" family, but I tend to believe these things myself. Even though I know we made the right decision. And even though we are doing a pretty good job at getting along, co-parenting and trying our best to do things with the kids as a family still. Not to mention my best friend who was in a really abusive marriage and took years to get out because she didn't want to feel responsible for "breaking" her family up. What are your thoughts about this?
Although most would agree that divorce is obviously not the goal when we initially get together with a partner and start a life journey, I would hope that most would also agree it's an important option to have when things change, definitely when abuses are present, and when those involved in this very complex and difficult decision agree it's the best way forward. I agree with you that the language we use around this topic is awful and stigmatizing. I would hope all families can be celebrated regardless of the marital relationship of the original partnership. In Mormonism we have had the option for divorce without many of the doctrinal issues that other religious faiths have (i.e. Catholicism). At the same time, we are language heavy in ways that are inappropriate, we idolize the "intact" family system and we have issues with temple sealings that make divorce particularly difficult for women. So there is work to be done.
I would hope we could rely more on our doctrines about eternal "family" relationships where it's much more inclusive than the heavy focus on marriage, that we could understand that there are many myths about how "easy" it is to get a divorce and that it is the "easy way out" (the research does not support this with most people taking about 7-10 years to make a decision to divorce), that our health and lifespan is directly related to whether or not we find ourselves in healthy or toxic marriages, and that the relationship with Christ can be more of a focus than certain types of families in our Sunday meetings. I really liked the following post where Alice invites us to rethink some of our narratives, and that we make sure we teach our young women and men that abuse is never something to be "endured." There are very legitimate reasons to part ways.
Today's guest post is written by Alice Petersen. Opinions shared on guest posts may not completely reflect the positions of the blog's author.
Alice Petersen is a Mormon-ish mom of two teens. She enjoys subversive cross-stitching and lives in Utah with her partner and two cats. Alice is currently starting her life over on her own terms…taking lots of mental health meds and procrastinating at returning to therapy.
Alice's post is in response to this Tweet: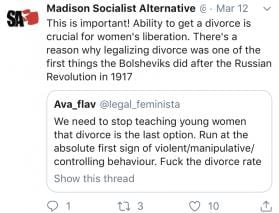 Can we please update the conversation around Family and Marriage? #AlicesVeryLongThoughtsOnTheSubject
Marriage is not the gold standard. Healthy humans are the gold standard.
There is no such thing as a broken family. A family may change what it looks like, but it is not broken, it is just different.
P.S. different is not negative. Different is not bad. It is just different.
P.S. change is not bad. Change is not negative. Change brings growth. Change brings challenges. Change is not always fun. Change is not bad.
Can we please start supporting "actual, existent families" rather than an idealized versions of "The Family" that may or may not exist and just ends up making children, who have no control over the situation/martial status/child bearing status??
Can we please support the life, health, nutrition, and safety of "actual, existent humans" just as much as we do potential humans?
Can we please entertain the thought that the endless, daily work and nurturing done by parents, family members, regardless of their supposed worthiness, is more eternally important that a 2 minute sealing ceremony performed by a stranger.
Natasha Helfer Parker, LCMFT, CST can be reached at natashaparker.org and runs an online practice, Symmetry Solutions, which focuses on helping families and individuals with faith concerns, sexuality and mental health. She hosts the Mormon Mental Health and Mormon Sex Info Podcasts, is the current past-president of the Mormon Mental Health Association and runs a sex education program, Sex Talk with Natasha. She has over 20 years of experience working with primarily an LDS/Mormon clientele.