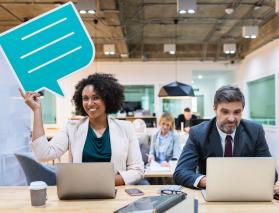 Mental health practitioners have noted for a long time how differently people can behave online than they do in person; often in more negative and aggressive ways, with resulting effects on readers. This is especially typical with topics that generally tend to be polarized to begin with: religion, politics, and relational dynamics (i.e. parenting, sexuality, marriage, etc.). See the following article: The Psychology of Online Comments.
I'm inviting all of us to consider both self-care and self-monitoring when it comes to the "comments section" of any online medium we may be visiting. Here are some ideas to consider both as we make comments… and as we read them:
Boundaries. When and if somebody is sharing a personal experience, it is not appropriate to disagree or minimize what they have been through.

A simple, "for me," at least allows for the possibility that there is room for more than one experience. "It was helpful to read your experience so that I could consider something other than my own. Because, for me, I saw it from this perspective."

The sandwich approach, bread/meat/bread, can also be an effective and empathic way to express an opposing thought. "I really appreciate your willingness to share your perspective on this (bread)…
To read the rest of this blog visit Symmetry Solutions
---
Natasha Helfer Parker, LCMFT, CST can be reached at natashaparker.org and runs an online practice, Symmetry Solutions, which focuses on helping families and individuals with faith concerns, sexuality and mental health. She hosts the Mormon Mental Health and Mormon Sex Info Podcasts, is the current past president of the Mormon Mental Health Association and runs a sex education program, Sex Talk with Natasha. She has over 20 years of experience working with primarily an LDS/Mormon clientele.