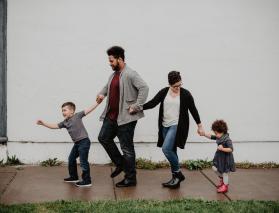 I very much enjoy having Dr. Julie Hanks as a colleague and friend. I support her approach to mental health and relationships and have so enjoyed collaborating with her as a board member of the Mormon Mental Health Association. Make sure you follow her blog. She will be presenting a Utah Ted Talk at the end of this month.
Today's guest post is written by Dr. Julie Hanks. Opinions shared on guest posts may not completely reflect the positions of the blog's author.
Julie de Az
evedo Hanks, PhD, LCSW is the owner/director of Wasatch Family Therapy, a popular blogger, an online mental health influencer, a local and national media contributor. Dr. Hanks' new book The Assertiveness Guide For Women (download a free chapter) helps women find and use their authentic voices to improve their lives and relationships. Julie and her husband are the parents of four children. Visit DrJulieHanks.com for more great tips on facing life's challenges and to schedule coaching sessions. For therapy services in Utah visit WasatchFamilyTherapy.com. Connect on social media with @drjuliehanks
When it comes to parenting, worry doesn't equal love.

As your child grows, the stakes get higher, and your control over their safety and their choices diminishes drastically. To deal with this lack of control, parents may turn to worrying (unease or anxiety over real or potential problems) as a consolation.

Worrying as a parental "soothing strategy" or compensation for lack of control, sounds odd because worry is not comfortable. What is comforting about worry, however, is that it makes you feel like you are doing something when you're actually not doing anything. When it comes to parenting, worry feels a lot better than powerlessness!

Equating worry with love poses some problems for parents and children. Parental worry and love can, in some cases, bring about drastically different results. In some cases worry can be considered the antithesis of love. Here are four ways worry and love differ significantly:

1) Worry prevents positive action / Love motivates positive action

2) Worry demonstrates a lack of faith / Love perpetuates trust in God

3) Worry perpetuates suffering / Love perpetuates healing

4) Worry focuses on the future / Love focuses on the present

Worry is a waste of time and energy and not a sign of love. Love is doing what's best for the child, not becoming consumed with future "what ifs?" One of most valuable gifts of parenting is that it forces you to let go of the illusion of having control over your child and to turn your child's life over to them and to God.

For more information on this topic please check out Dr. Hanks article:
---
Natasha Helfer Parker, LCMFT, CST can be reached at natashaparker.org and runs an online practice, Symmetry Solutions, which focuses on helping families and individuals with faith concerns, sexuality and mental health. She hosts the Mormon Mental Health and Mormon Sex Info Podcasts, is the current past president of the Mormon Mental Health Association and runs a sex education program, Sex Talk with Natasha. She has over 20 years of experience working with primarily an LDS/Mormon clientele.