This is one of the most powerful sex-positive pieces I've recently read. Blaire Ostler has become one of my favorite authors and I'm so glad she continues to allow me to feature her work. She addresses so many sexual issues in this poignant piece that I've been passionately addressing for years: importance of self-autonomy and authority; importance of not buying into "ownership" dynamics; and importance of prioritizing pleasure as a legitimate need and self-care tool. We need lots more of THIS!
Today's guest post is written by Blaire Ostler. Opinions shared on guest posts may not completely reflect the positions of the blog's author.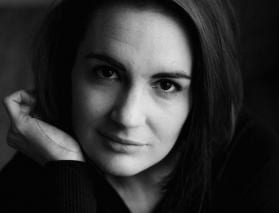 Blaire Ostler is a philosopher and leading voice at the intersection of queer, Mormon, and transhumanist thought. She is a board member and former CEO of the Mormon Transhumanist Association, the world's largest advocacy network for the ethical use of technology and religion to expand human abilities. She presents and writes on many forums, and speaks at conferences promoting authentic Mormonism. Blaire holds a degree in design from the International Academy of Design and Technology-Seattle. She is currently pursuing a second degree in philosophy with an emphasis in gender studies. She is also an artist, and spends her spare time hiking, painting, writing, and bickering with her friends about almost any topic imaginable. Blaire and husband Drew reside in Utah with their three children.
Thoughts on masturbation (because a friend asked).

My body has been through a lot of trauma. I have experienced sexual assault while being laughed at. I have experienced physical assault. As a teenager, I had a stress fracture in my spine. My body has healed broken bones, torn ligaments, lacerations, burns, cuts, and bruises. My body has fought off viruses and infections. I have experienced three excruciating pregnancies. My nipples have been sucked by babies until they were raw and bleeding. I have had eight surgeries, three of which were C-sections. I have had scalpels shoved up my rectal cavity, cut my abdomen, sliced my breasts, my uterus, my fallopian tubes, my legs, and my mouth. I have the scars to prove it. My naked body has been photographed inside and out to be catalogued and documented in medical journals.

My body has been through hell and back. Yet, I'm still standing.

Suffice to say, anytime my body wants some pleasure, I am going to give my body some pleasure. I hold the keys to the pleasure centers of my body. No other person gets to have control over when or if I get to orgasm. And if I so choose, I will share the keys of the pleasure centers of my body (consensually) with those who I deem worthy. But those keys belong to me and no one else—and they certainly don't belong to my husband.

My husband may or may not be a part of my orgasms. The only reason he gets to experience the pleasure centers of my body with me is because I have invited him into those sacred spaces. He does not own my body or my ability to experience orgasm. He is not entitled to my orgasms. Those who have told me my orgasms are to be given exclusively to my husband were attempting harness my body's power into the indentured servitude of men through shame tactics. My orgasms will not be held ransom by shame.

They cannot take away my power with their shame. My body is magical. My body is powerful. My pleasure is sacred, and I'm unashamed.
---
Natasha Helfer Parker, LCMFT, CST can be reached at natashaparker.org and runs an online practice, Symmetry Solutions, which focuses on helping families and individuals with faith concerns, sexuality and mental health. She hosts the Mormon Mental Health and Mormon Sex Info Podcasts, is the current past president of the Mormon Mental Health Association and runs a sex education program, Sex Talk with Natasha. She has over 20 years of experience working with primarily an LDS/Mormon clientele.