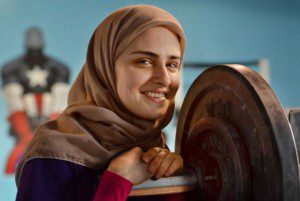 The Muslim Portal at Patheos  is hosting the "Three Questions" project for the month of September in conjunction with the tenth anniversary of the terrorist acts of 9/11.  We are asking American Muslims from across the nation three simple but important questions. Click here to learn more about the project.
Kulsum Abdullah, an
Olympic weightlifter
and Pakistan-American  computer engineer who recently won the right to wear her hijab and full-coverage clothing in weightlifting competitions, offers her answers to the three questions:
1. What is the most pressing issue or concern for you as a Muslim in America today, 10 years after the tragedy of 9/11?
I am not sure.
2. In what ways – inwardly /or outwardly – did 9/11 change you or affect you?
Outwardly, I dont think I changed.  I wear hijab, long sleeves, pants etc. before and after 9/11. Inwardly — [I am] more aware of the hate people have for Muslims.  But I am also hopeful. One of the things about 9/11 is more people learned about Islam.  And from that learning, some of those people are realizing the misconceptions.
 
3. What do you think non-Muslim Americans most need to know about Muslims?
 We are all pretty much the same, even if we look different or do some things differently.