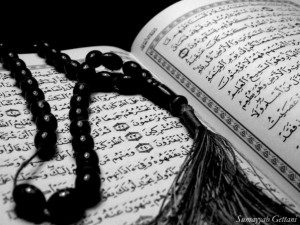 Family and guests are arriving, the food is cooked to feed everyone at the house, the batwas (party favors) have been filled and labels added, the laddus (classic Indo-Pakistani dessert) are made, the decorations for the hall are ready, and the food for the party is coming together. It's Bismillah time at our house.
A Bismillah is a cultural/religious occasion (it's not mandated in Islam), a ceremony that marks when a child is ready to learn how to read the Quran. Typically, it happens when a child is four years and four months old (don't ask me why!), but really any time between the ages of 4 and 6 works. At the Bismillah function, family and friends gather round while the child recites (or repeats) the first lines of the Quran revealed to the Prophet Muhammad (saw): "Iqra bismi rabbika ladhi khalaq … " (Read! In the name of your Lord … )
After these opening lines are recited by the child, there may be other surahs (verses from the Quran) recited or speeches given. And everyone hugs and congratulates everyone else and partakes in a delicious dinner. Now, you don't need to have a Bismillah at all to read the Quran. It's a culturally-based religious ceremony, a way for us to come together and celebrate a child embarking on a lifelong journey with the Quran as his guide.
Hamza is having his Bismillah tomorrow. It is a happy occasion, as he is our last child to have a Bismillah. All of our children have had a Bismillah: Amal's was held in India and was a beautiful, special affair. Even Lil D, through months of practice with his paternal grandmother, repeated the Quranic verse, and we celebrated his Bismillah with laddus and brownies at home.
On Guard
My husband and I have been looking forward to Hamza's Bismillah for a long time, but we are nervous as well. Though things have improved some with Lil D and his self-injurious behaviors (due to new medical treatments, a functional behavioral plan, and a summer break where little demands are being placed upon him), we still perpetually on our guard.
Lil D still chooses to spend the majority of his time in his room, away from any social interaction. And when the meltdowns come (and they come every day, about twice – which is less than the frequency in May and in the beginning of June), they are still just bad as ever, with him slapping his face, pulling his hair, banging his head and legs on the floor, and hitting and biting his own arms. However, the duration is less, so that is a step forward as well.
So, we are in a better place now for sure, And, I must give thanks for that. Everyone has been praying hard, and our hyper-vigilance with regards to his health and therapies is paying off to some extent, shukar alhumdullilah.
But, I'm not at ease. I've gone back and forth in my head what could happen this weekend, with so many family members coming to share this blessed occasion with us. The house will be full of family, noise and chaos this weekend – the things that make for a great, fun weekend; the things that are extremely difficult for Lil D to handle.
Instead of having the Bismillah function in our house (where we would've liked to have had it), we are holding it at a hall nearby, so that Lil D won't be subjected to more than a 130 guests filling our home. By moving the party elsewhere and getting a trusted therapist to stay with Lil D, at least I can spare him that.
Preserving Dignity
Nearly nine years ago when his autism was diagnosed, my husband and I made a decision that Lil D would not be hidden, that he was our son and an integral part of our lives. Within our desi (Indian-Pakistani) and Muslim community, he was the first special needs child for everyone. It was a learning curve for our friends, family and for us – how to include him, how to explain things, when not to feel bad, and when to raise awareness.
As the years have passed, things have changed. True to our word, Lil D is not hidden, not treated as less. He is known to all our family and friends. He has attended several functions, parties, picnics, and other social events, and through my writing, more people know our story and his struggles.
But, as I wrote in a previous post, fractured family syndrome is a very real part of an autism family's life. Recently, my husband remarked to me that it has been a whole year since we took Lil D to a party or social event with the entire family. It has just been too hard for him and for us to do so. At first I denied it. It can't have been a year. But when I looked back at everything we had attended, I realized it was true, with the exception being a birthday party we attended with him last week (hosted by a beloved family friend and former therapist).
With Lil D, izzat (dignity) has become an important thing to me. I don't sugarcoat things in this blog (for the most part). I try to be fair in what I write, and I try to be real. And, his dignity has become very important to me. I want to keep his dignity in tact as much as I can; I want to protect his izzat in front of other people. I want to hide those awful meltdowns and sounds from everyone. Reading about them is one thing. Seeing and hearing them is an entirely different experience.
I don't know if that will be possible this weekend. I only know that everyone who is coming to stay with us loves us and loves Lil D and the rest of our children. And, that's a big blessing.
I pray for Hamza to sit with dignity and recite the verses properly without making funny faces; I pray for Amal to overcome her nerves and give her speech with dignity; and I pray for Lil D's dignity to be protected.
Bismillah ir rahman ir Rahim. Let's have a Bismillah.