The kids are back in school and adults are back at work. And many parents with ASD (autism spectrum disorder) children are breathing a sigh of relief that they have survived another vacation. As for us, we returned our RV this morning, after clearing it out yesterday and removing all touches of the 2012 Ali Family Grand Adventure.
Did we really do what we just did? It came and went so fast, and there was so much potential for disaster that it's rather difficult to believe we are back. It is all over, and the rewards far outweighed the risks. To backtrack, in an attempt to find a way for all the seven members of our family (myself and my husband, in-law, and our three children) to vacation together – after too many vacations as a fractured family – we decided to rent an RV and drive down to Florida.
Lil D – with all his strict routines, behavior issues, medical and dietary obligations and penchant for self-injurious behaviors – was the puzzle piece that was difficult to fit into our vacation equation. Coming close in second were my in-laws, with my mother-in-law suffering from numerous aches and pains. Still, my husband and I were determined to try something new, something where we could all go on vacation and be together.
Rewards More than the Risks
No vacation, or anything for that matter, is perfect. It wouldn't be a real life if it were perfect. The very act of living our life as a joint family with a special needs child is a life lived messily, imperfectly, and with great determination, fortitude, patience, frustration, tears and faith. This vacation wasn't perfect, and we pushed Lil D further than he wanted to be pushed. But as a testament to his immense courage, he stayed with us the whole way.
By with us, I don't just mean physically (which itself was huge, as he went nearly everywhere with us), but mentally he didn't check out as much as he is prone to. He used his iPad to communicate some of his wants and needs. And most thrilling, he adjusted his wants and needs to the situation he was in. More on that later.
We went to two campgrounds, the first where we spent time on a cold Florida beach; the second in an RV park in Orlando where we enjoyed a heated swimming pool, a rinky-dink amusement park and Downtown Disney at night. There wasn't anything particularly special about these activities (other than the beach) – we could've done similar things around our home in Central Virginia.
But the purpose of this trip was, among other things, to lock ourselves into family time. One of my mother-in-law's chief complaints is that though we all come together for a family dinner every night, we all are too busy with school, work, iPhones, computers, iPads and autism to spend real time together. She knows that this is life, but she laments it from time to time.
Well, this was family togetherness from which there was no escape. The first two days/nights we spent on the beach in St. Augustine, Florida. We didn't come with any other vehicle, so once we parked that RV, we were parked. The beach was colder than we wanted, but we still enjoyed. The first morning we took Lil D and the kids to the beach, but he became upset and began hitting himself. I took him back to the RV to recoup.
Come here, his grandmother said to him, trying to engage him.
He needs time, I told her. Leave him be.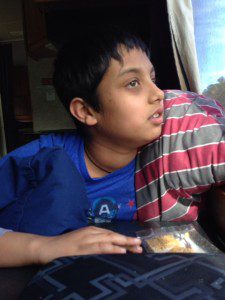 This was a boy who had to spend all his time with us in that 30-foot space. At home, he had made progress from last spring when he was in an autism crisis, constantly engaging in self-injurious behaviors and hiding from the world under the covers of his weighted blanket in his bedroom. Now, he does come down and spend time with us. He tolerates going out with us again (for short periods of time). But he needs his own space – and finding that in the RV was tough, if not impossible.
So, his grandparents cleared out and I brought the iPad to Lil D. He requested chips. After two packs, relative calm ensued. I asked him to come back to the beach, and he reluctantly followed me out. My husband met us on the bridge to the beach and saw the worry in my face that this is going to be a failure.
As Lil D trudged ahead of us, my husband put his hands on my shoulders and squeezed hard. Round two, he brightly announced. It's going to be ok. We're here to be together, and he just needs some time. And if it's not, then at least we're all together and we can drive home, he assured me.
A Life Worth Living
It's exhausting, this trying to make it all work, this life spent assessing risks versus rewards, retreat versus pushing ahead, pushing Lil D and us to not be bound by the challenges of his autism. He is who he is, with all that he is. And so he is pressed into doing things with us when perhaps he'd rather be safe in his routine of home and school.
But as well as I know him, I'm certain that he, too, appreciated this new type of vacation — done for his and is grandparents' maximum comfort (and as an adventure for the rest of us).
During the first part of our trip (since we didn't rent a car) when sunset came, we all retreated to the RV and spent the rest of the evening playing cards, drawing pictures with the kids, tickling Lil D, going for walks in the dark, and watching Tom & Jerry DVDs on our laptops. And we talked to each other – not about anything big, but about everything in between.
At night, Lil D slept without complaints in the loft area of the RV. We kept him to his sleeping/eating schedule as much as we could, and when bedtime came, he climbed up there happily and hunkered down under his favorite blanket. We drew the curtains in front of the loft, put on the background noise machine, and went about our evening in the RV quietly.
It wasn't easy – one morning both boys wet their beds, and we were left with mounds of laundry to do in the trailer park laundry room. On the second portion of the trip in Orlando, we rented a car so that we could head out and attend Friday prayers at a local mosque. While my husband and father-in-law went to prayers, my mother-in-law, the children and I hung out at the aforementioned rinky-dink amusement park. The younger kids went on rides, and Lil D milled about. We went to a store featuring rocks and minerals and hundreds of necklaces and chains hanging from artificial trees.
Lil D, the consummate beads twirler, was in heaven.
But after killing an hour there, he began giving me all the signs that he was done with this sensory-overloaded place and wanted to go. I walked with Lil D in his stroller to where my husband was, so I could get the keys go to the car. A terrible meltdown occurred on that walk, with Lil D hitting himself hard on the face and head and reaching back to scratch, pinch and bite me. Though I have a tough skin when it comes to these situations in public, even I felt the hot blush of unwanted attention from locals and tourists all around me.
I took it out later on my husband. I told you Lil D was done, I said. Why couldn't we get the heck out of Dodge?
We have to consider the other kids and my parents, he reminded me.
That's what I mean by not easy. Too many times we have cut an outing short, or have passed on going somewhere all together because we know Lil D will not be able to tolerate it for long, if at all. I remember the wailing of my daughter once when we left a wedding reception early before the cake was cut because Lil D gave us the "I'm done" signal. We try to honor his requests and get out when the getting is good. Other times we have to keep the wishes of our other kids in mind and suffer the consequences of a Lil D meltdown. Or, we divide and conquer.
This trip was all about rediscovering a life worth living, a life where we can be together; where we are all strong enough to manage together, to accommodate each other, to be with each other. It was as much for Lil D to learn how important this is as it was for the rest of us. And, I believe he did.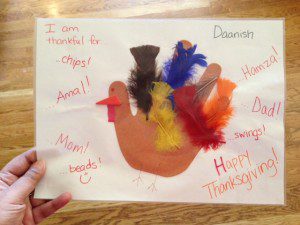 While we were in that RV, not once did Lil D request "shower" on his iPad, which is a current staple of his day at home. (He requests therapeutic showers nearly twice daily.) He made appropriate requests for french fries while we were on the road and not parked in an RV camp. At home, his lack of patience is a constant problem area.
And, most hearteningly, he succumbed to the physical closeness of our family. Amal and Hamza tumbled on the bed in the back of the RV with him. They squished up against him on the small sofa. We all squeezed into the little table on the RV.
One night at the RV trailer park in Orlando, my husband, the kids and I hung out in the little laundry room while I dried our swimsuits. As Amal and Hamza squealed while I scared them with stories of alligator sightings in the park, Lil D put his feet on my husband's feet, looked into his eyes, and hugged him tight.
I haven't spent this much time with him in so long, my husband remarked happily. Lil wants to be with me, he said.
That is a successful vacation. That is something to be thankful for.