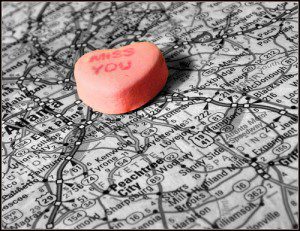 Growing up, I can only recall one time when my parents left us in the care of a babysitter. Part of it was where we grew up (in a small Midwestern town away where there wasn't much by way of entertainment). Another part was just how my parents were – more of homebodies who just weren't inclined to leave their children. They didn't seem to have a lot of complaints or difficulties, even when I ask them now, when it came to our upbringing.
Were we easier kids to parent than our own children are now? Maybe they just dealt with things better than us.
I don't know the answer. I just know that very early on in our marriage, my husband and I realized that we needed breaks and time for each other as well as time for ourselves – way before autism became the dominant, all-consuming member of our family.
As our kids are growing and we are more aware of the full scope of Lil D's autism — the care he will always needs, the challenges that he will always face, the frustrations, difficulties (and joys) that he will bear (and thus we will bear with him) — my husband and I emphatically know that to be the best parents we can be, we need to step away at times. This is us – all parents of special needs children may not feel this way, or they may not have the support around them to get the breaks they need.
I've harbored a certain amount of guilt every time I've taken a break/vacation away from Lil D. Every time I momentarily walked away (even though you can never really walk away from autism, because it's always on your mind), I told myself, Lil D can't walk away from himself. He has to deal with all that is difficult all the time. There is no break for him.
But a friend recently laid it out succinctly, pulling no punches: We all need to stop this guilt sh*t.
And she's right.
Whether your child has autism, cerebral palsy, Down's syndrome, or any kind of special needs, his/her life will be full of challenges, and so will yours. Parenting itself is a lifetime job of love, nurturing, caring, worry, heartbreak, support, sorrow and happiness. Special needs parenting is all that stretched into a seemingly unbearable, taught live wire upon which you balance yourself, your child and your life, with no safety net in sight. You are his champion, her advocate, his unconditional love and her best bet at a good life. And that's a helluva lot to manage.
We walk this high strung tightrope because these are our children, and we love them and would do anything for them.
But for me, because I am blessed with some support and the means to step back at times – something my husband has emphasized to me time and time again – I do. I come back ready (for the most part) to do it all again.
Sometimes the best thing I can do as a parent is to hand over the parenting to my husband or someone else for a little bit and regroup. Many parents of special needs kids can't afford this luxury — so I say
shukar alhumdullilah
that I can once in a while. I can never fully walk away from Lil D and his autism, but do try for a little breathing space. Like my friend advised, I'm going to work on letting go of the "guilt sh*t."
And so, during the second week of winter break, my younger two children and I went to Texas to visit my brother and his family, who recently had their second baby. My entire family converged in Texas, including all siblings, spouses, kids, parents and my maternal grandmother, minus my Lil D and my husband, who stayed back with him.
I'll admit, I left with some guilt, because on top of the typical mixed-up feelings of leaving him behind (whereas last year we all traveled to Texas together for an epic "Zen and the art of autism maintenance" vacation), I felt badly because I jumped ship during the second half of winter break, when Lil D had reached his end point.
Two weeks of winter break is no vacation for Lil D, who prefers the structure of home/school/therapy. The first week I did my best to fill his time and keep him on some sort of schedule. But, like clockwork, on the first day of week two, the anxiety, self-injurious behaviors, and general tension  of cabin fever appeared right on schedule, just as expected.
He was in that state when I boarded the plane for Texas with Amal and Hamza. I feel bad, I told my husband. You're going to have to bear the brunt of this (he had taken some time off to spend with Lil D).
Don't worry, he said. You know he sort of enjoys it when you go and he and I get one-on-one time. All rules are thrown out the window when we're alone, he said (which is problematic for me when I return, but it's the price I'm willing to pay for a break).
So I left for a week. Following our unwritten rule, he kept the details of whatever difficulties and behaviors Lil D had to himself despite my persistent texting of questions. On the whole, husband said, they enjoyed some good, cuddly, father-son moments together, even venturing out shopping and for other outings, which he doesn't get to do very often with Lil D.
We came home on Friday and bum-rushed Lil D as soon as we walked in the door.  He had a big grin on his face as Hamza, Amal and I hugged and kissed him. Yeah, he was happy that we were back. He had a meltdown one hour later over his latest obsessions – wearing multiple hats on his head and wanting to be constantly driven around. We dealt with these meltdowns and behaviors juxtaposed with moments of calm and smiles the entire weekend. Oh, I was definitely home again.
The next morning as we ate breakfast, Lil D spun his beads on a pencil and wandered around the dining table, making loud sing-song noises. WEEEEEeeeeeEEEEEeeee HAAABBBBBEEEEEEE, he chanted, over and over.
My husband suddenly looked at us and remarked, don't you know what he's saying?
We're happy.