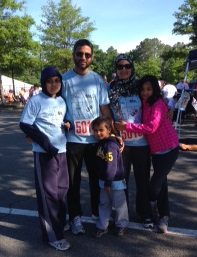 There are two stories to tell, unrelated, yet related to each other. A high and a low. Prayers answered and things gone horribly wrong, all in the span of 48 hours. Autism is a relentless, fickle and surprising master. But there is one greater master.
The past two months around my home was a lead up to Memorial Day weekend and the Autism Society of Central Virginia 5k – an annual run/walk that is this organization's biggest fundraiser. I've been involved with this organization for a few years, having stumbled upon them when I realized I needed help navigating things like Medicaid waivers, school transitions and a thousand other things beyond my scope of knowledge.
Fundraising and raising awareness for this organization and autism at large has been the greatest lesson in the power of Facebooking. For all that's wrong with Facebook — privacy issues, advertisement policies and so on — the ability to reach people, make connections and share personal experiences and knowledge in hopes of educating a wider audience is unsurpassed.
I've spent nearly two years sharing our autism journey, trying to be as real and a fair as possible in showing how autism governs every aspect of ours and Lil D's lives and how it shapes my faith — how difficult it is, the joys and triumphs and the soul-shattering lows. Lil D is but one of thousands upon thousands, millions who manage and deal with autism every minute of their lives. Autism, in all its variances, severities, differences and challenges.
Autism, which affects more children than cancer, juvenile diabetes and pediatric AIDS combined.
I share these statistics as well as personal stories, from the mundane to the profound, hoping to change public perceptions and attitudes towards people with special needs, to open up minds and hopefully plant the seeds for change. It blew me away how nearly 50 percent of people who donated to my 5K fundraising team were people I have never met in person.
These are people with whom I made friendships with via Facebook, who felt that tug of human connection, that sense of wanting to help. It was amazing. A number of donations also came in from people from my past – elementary school, high school, past jobs, places I've lived, people I've met along the way. A dear high school friend in Oklahoma, who experienced one of the scariest days of her family's life during when a devastating tornado ripped through Moore, OK last week, two days later wished me support and donated to my team.
Locally, for the first time I gathered a team to do this 5K with me. Within the autism community, there's a feeling of family, of knowing you have a connection that can go deeper than the blood bonds you share with your own biological family. When friends outside of that community step up to stand with you, well that is truly special.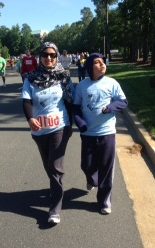 I came away from doing a 5K Saturday morning with Lil D, my husband, our kids and our tribe – and welcomed people outside of the tribe as honorary members. For all my worries about how the actual 5K would go, how Lil D would behave – it all went beautifully. Lil D was calm and really enjoyed himself. He walked part of the way with a smile on his face. He knew – they were all there for him.
Those seeds of change? Planted.
Which leads me to the second story.
I drove to Maryland with the kids to visit my parents after the 5K was done. Alone. Husband stayed back because he was working. I think it had been two years since I made that trip without him. My brother and his family from Texas as well as my other brother and his kids were all in town for the weekend, and we had a family reunion after several months — a real reunion where Lil D was also with us. All of my parents' eight grandchildren all together.
Last year on Memorial Day weekend, when we were in one of the deepest, darkest, most awful autism sinkholes, when Lil D spent most of his entire day slapping and hitting his face, biting his arms, throwing himself on the floor, pulling his hair out and attacking anyone who tried to stop him from hurting himself, my brother and his family flew in from Texas. My mother and my other brother and his wife and kids also converged at our house. They
all came to care for Lil D
so that my husband, Amal, Hamza and myself could travel to Toronto to attend a family wedding.
They came so we could get a break. And it broke my heart to leave, knowing that Lil D couldn't get a break from himself. It broke my heart to expose my family to what we were living. Sounds crazy, right? They knew what we were dealing with, but to let them into our world, to trust my son to them was one of the hardest things I've ever done. To let go can be one of life's most difficult lessons.
I was thinking about this when I got to my parents' home and watched my eldest brother greet Lil D. He is a different child now, still with enormous challenges and issues, but way better than last year. Lil D sat on the sofa next to my brother and draped his legs on him. There was ease there. Later when we went to my other brother's house, the brother whom Lil D specially loves, he got on my brother's back and took a piggy-back ride around the house.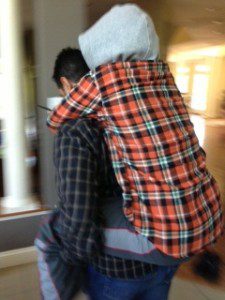 On Sunday my dad proposed we do a 45-minute boat ride in Washington, D.C. to see the monuments. I knew it wasn't a smart idea to take Lil D, but thought I'd give it a try anyway. Things had been going pretty well. But I made some crucial mistakes. Though I knew I wouldn't be taking him on the boat, I thought we could hang out at the dock while the rest of the family enjoyed the ride. What I didn't ask was where in D.C. this boat ride was.
We ended up going to the Georgetown region of D.C. to a dock to catch the boat. I should've backed out before we parked the car. Every autism family knows the importance of an escape plan – how we are going to get our child out of a situation should it go wrong. It was for that reason that I didn't want to take Lil D on the boat. But I failed to factor in that just going to the dock would leave me without an escape route in the midst of a very crowded situation.
You know that feeling when you are walking into a situation and you know it's just going to be bad. And yet like a fool you keep on walking into the fire. Why do we do that? Why, after all these years, after everything I know, after how I know when to push Lil D and when not to, did I make a mistake like this?
Yes, there was meltdown, and yes, it was epic. And yes, there were many, many people around us – tony Georgetown, young beautiful types gathering for drinks and flirting, enjoying the late afternoon sun on Memorial Day weekend. Hamza, my father and my niece were also with me. Hamza – he knows the drill. He sat on a bench while I dealt with Lil D. My dad tried to keep the youngsters in check while I endured Lil D's head butts, scratches and pinches and tried to block him from hitting his head on the concrete.
A crowd gathered. A crowd actually gathered to watch, whispering to each other, pointing. My words and composure left me in those minutes. My son's dignity was ripped to shreds.
Seeds of change? Not planted.
But that's it. That's it right there — the highest of highs followed by the lowest of lows. The cruelty and blessing of life is that it marches on. And as the days passed by I gained perspective. It's ok. We learn, and we move on, and we try and forgive ourselves, but we don't forget. We remember great days like the 5K. We take stock in what works for our children.
And we keep planting seeds. Or else what is it all for?