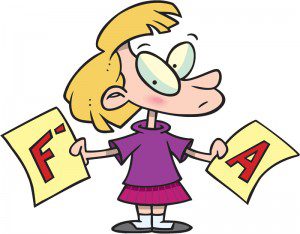 After years upon years of scrutinizing progress reports and hashing out (and assessing) IEPs (individualized education plan – what special education students have written for them in lieu of following a set school curriculum), I got Lil D's year-end report card today with percentages listed for his final grades.
These percentages translate to letter grades. My son has never received letter grades in his life, as his IEPs have addressed the most basic of academic skills with a heavy emphasis on social skills, behavior goals and life skills. So it was kind of a big milestone to, at the age of 12 and the completion of the sixth grade, receive his first letter grades.
We're your classic Indian high-achieving-emphasis-on-good-grades kind of a family. If you're Desi, you know what I'm talking about – it better be all A's, maybe an errant B here or there. Every quarter when we would receive our report cards growing up, my brothers and I would demand to receive double allowance from our parents (or a trip to Pizza Hut) as a reward for our hard work.
My husband and I (I hope) are more evolved parents. We also want our kids to do well in school, study hard, make good grades and reach their potential. We want them to reach beyond their potential, discover what they love, explore new things and be responsible and caring citizens of the earth.
Translating this all to Lil D has been the biggest learning curve for him and me. What is his potential? How can we push him to do well? How do we help him learn and manage/overcome aspects of his autism spectrum disorder while respecting that which makes him uncomfortable or disengage? How do we teach him to be a self-caring, responsible, independent citizen of the earth?
What is God's plan for my son?
I belong to quite a few different Facebook and Yahoo autism groups that focus on various aspects of ASD – from sharing stories as a way of sympathizing with each other to discussing the latest in biomedical research to treat ASD to sharing information on how to navigate school and community. There's even an awesome group I belong to where the members are Desi (with a connection to India/Pakistan) parents of ASD kids engaging in all sorts of alternative therapies and interventions to help their medically-complex children.
And I love hearing how some of my parent friends in this group see a marker of "recovery" from autism being when their child will have no IEP and pull A's and B's in school with minimal support. (And some have achieved just that with their ASD kids!)
A's and B's.
Lil D got grades this year for the first time. He was graded in the subjects of assisted reading, writing, general math foundations, social sciences and history, fitness/conditioning activities, life skills and self-management. The percentages translated to two B's (fitness/conditioning activities and life skills), one C (general math foundations), two D's (assisted reading and social sciences and history), one F (writing) and one A (in self-management).
And, after two horrible years when he went from being able to sit at his desk and work on different IEP goals and skills for up to 20 minutes at a time to spending most of his day engaging in self-injurious and aggressive behavior, non-compliance or lying on the floor, he is now able to sit for 10 minutes at a time and work.
Ten minutes.
My five-year-old son has started reading books and plays imaginative games. He creates videos with his dad's iPad and has mastered early addition skills. He also can finally be trusted to clean himself after going to the bathroom, can help me with chores around the house, and (thanks to his paternal grandmother) learned how to read the Quran.
My daughter, who just completed the fourth grade, is in such an exciting time of her life, growing leaps and bounds academically and socially, absorbing knowledge around her and processing it in ways that excite me. She is inhaling books, learning to sew, continuing on with her Quran reading, kicking butt in school and so much more.
At the end of the school year, Lil D's behaviors are much more manageable due to stringent and meticulous behavior plans at school and medical intervention and research by me. He seems calmer, happier. He recently learned how to hang up clothes on a hanger. He can run a vacuum and is making progress in learning how to bathe independently. After four months of instruction in school, he can pick out "D" and "A" in our goal to teach him to be able to type his name on the computer.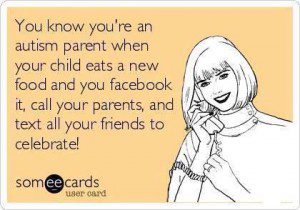 He can sit for ten minutes at a time and do work in school.
He no longer spends 90 percent of his school day dropped on the floor.
He keeps making headway in learning to use his iPad as a means of communication.
This week we went bowling with him as a family, and he, after some instruction, was able to successfully navigate when it was his turn to bowl. I took the three kids grocery shopping by myself yesterday, and (because of tons of community-based instruction with his home therapists), he helped me load my items onto the conveyor belt when it was time to pay and helped carry the bags in from the car.
After much trickery, I got him to taste ice cream this week.
And yesterday, after he helped himself to a glass of water from the sink, he saw that he had splashed water on the counter, ripped off a paper towel from the roll, and half-heartedly wiped up his mess.
I'd say we are looking at a stellar report card.