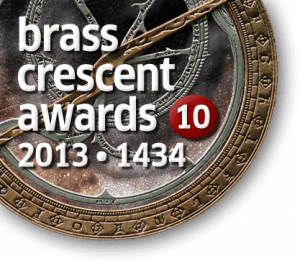 Ok, this is my Sally Fields moment – you like me! You really, really like me!
And not just me – but I feel your love for all the great bloggers, writers and columnists at the Patheos Muslim Channel, who throw their passion into their writing and share it with you. I'm so excited that six of our bloggers and upcoming bloggers have been nominated for a Brass Crescent award this year, which honors the best from the Muslim Blogosphere.
Click here to vote! Our blogs are in the best of company and have some stiff competition, but I'd sure appreciate it if you could cast your ballot for the blogs listed below.
Best Female Blogger:
Hind Makki for "Side Entrances," which highlights the good, the bad, the ugly and the sublime in women's prayer spaces. Hind blogs at "Hindtrospectives" for Patheos.
Best Group Blog:
"Muslimah Media Watch," a perennial Brass Crescent favorite, which provides a variety of perspectives about the portrayal of Muslim women in the Media.
Best New Blog:
"Muslim History Detective" by Precious Rasheeda Muhammad, a blog created at Patheos this year in which Precious shares her vast knowledge on the history of Muslims in America.
Best Post or Series:
"Top Ten Ways on How Not to Build a Mosque in America" from the Patheos blog Al Mihrab by Irfan Rydhan, in which Irfan hilariously (and with a sharp flare for the truth) details all the ways Muslims go wrong in their mosque-building endeavors.
Best Regional Blog:
"Islam in China" by Wang Daiyu, a blog migrating over to Patheos this year. With the Muslim population growing at a rapid rate in China, this blog provides a nuanced understanding of Islam in China.
Best Writer:
"Muslimah Next Door" by, well, me!  And if you don't know by now, I blog on faith, family and autism — but not always in that order. This blog is dedicated to a variety of issues facing Muslims in America, but more often focuses on my son, Lil D, and his (and ours) autism journey.
One More Time: Please click here to vote, and please do vote for these blogs/writers! Voting closes on Sunday, October 13. Once you vote, you should receive an email asking you to click on a link to confirm your vote (so that people won't vote twice or more).