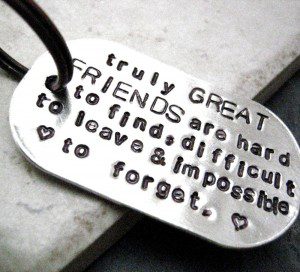 This was the texting conversation had with a good friend of mine a few days after my family (and a few others) had enjoyed a dinner party at her place:
Her- "Oh! And I found Lil D's underpants. They were in the attic."

Me – "Ha! He went all the way up there? Embarrassing. You have a bathroom up there?"

Her – "Yes we do. Don't worry about it at all. I'll give it to you next time."

Me – "Thanks. And I'm sorry about that."

Her – "Please, don't even think about it."

Me – "That's it – you're truly in my inner circle."
A little backstory: My friend, who moved here just a few years back, recently had her first dinner party (husbands included – we girlfriends have been to her place several times with and without our kids).
Now if we're invited somewhere as a whole family, our decision whether or not bring Lil D along depends on a few factors:
 Is it an autism-friendly home and family (meaning, they're cool with us and ok with the various things that could occur).
Who else will be there? Is it a big crowd? (Big crowds and too many kids running about can be a recipe for disaster for Lil D)
Do I know the lay of the land? The ins and outs of the house – where Lil D can and cannot go, should and should not go?
Are the other friends and their kids ok with Lil D? (Honestly, most of our large local community of friends are cognizant of the unique and changing parameters of our autism life, and at turns are on board/sympathetic/friendly/accepting/verbally supportive of it. And that is a great blessing for sure. But there is a difference between that, and being really cool with things. Like where Lil D (and us) is comfortable being in their homes or having them in our home.
How important is it for me to take him there, for us to be together as a family versus pushing him too far out of his comfort zone?
Well, at this dinner party, all the factors were considered and accounted for. I knew the house and this friend very well, and her kids had been around all of mine many, many times. There wasn't going to be a huge crowd, and those who were coming all were very familiar with Lil D – you know. All the gloriousness that is Lil D.
And although her home was pretty pristine with some beautiful furniture, I felt comfortable enough with her to ask her to lock the doors of any rooms Lil D should not be wandering in (and opening drawers in). Plus, the tipping point – she asked me a few times to please, please bring everyone, Lil D included.
You're sure? My husband asked me (he was going for the first time). Yes, I said. It'll be fine, God willing. We decided to tag team as usual – around Lil D's bedtime, my husband would bring him home and settle him down (my sister-in-law was at home, so there was an adult presence there – don't worry folks) and then come back.
The thing is, we've been at this long enough – my husband and I – to make decisions regarding our social circle, who we spend time with and where we will expend energy to maintain close relationships. (And, I hope I'm not offending anyone by admitting  this – I'm grateful for all our friends throughout our journey.) Among the wide breadth of things we have learned and adjusted in our lives because of Lil D and his autism, it's to focus on what is important for our family, to us, to our children (for me, my faith) — and to heck with all the rest.
And those friends outside of our autism circle who go above and beyond to come into our autism circle – well, God bless them. Like the friend to who's house Lil D retreated (and spent the night at) with his therapist/babysitter when a huge crowd of other friends came to our home one night to express condolences after a death in our family. This friend, who has bailed me out of countless difficult situations and had my back more times than I can remember.
Or the friend who had a birthday party full of kids and people I didn't know well, but she asked me several times to bring Lil D and that she would do all she could to make him comfortable. And when he grew upset at the crowd and requested a shower (which in the past has been a sensory calming tactic), she didn't blink once and opened up her master bathroom for his private showering.
Or the family friends with whom twice we've traveled to the beach – once renting a house together for spring break (during an extremely difficult period for Lil D when he was engaging in debilitating self-injurious behavior), and once for a day trip. They and their children rolled with our punches with just the right mix of sympathy, help and turning a blind eye to meltdowns when called for.
Or the friends (like my kids' soccer coach and others) who have come out and supported every damn autism thing we've done in the community – doing 5Ks with us, sending food when we've had emergencies, supporting our endeavors and taking time to try and bond with Lil D and understand what and who he is all about.
These. These are who I am so, so grateful for.
Now let me bring you back to this weekend's dinner party. After my husband took Lil D home, I got a text from him telling me to scope the bathroom for our son's underwear. (After he uses the bathroom, he often fails to put the underpants back on. So at our house, we're constantly doing a check of all bathrooms.) He probably went to the bathroom there somewhere. Please take a look, my husband texted me.
I hurriedly did a sweep of all the unlocked bathrooms I could find at my friend's house. But everything looked clean, and no underwear. I figured he must've gone commando at home.
Then my friend's text to me two days later telling me she had found it. And she and I both took it in stride. It was no big deal.
Two words: Inner Circle.
Five more words: God bless really cool friends.