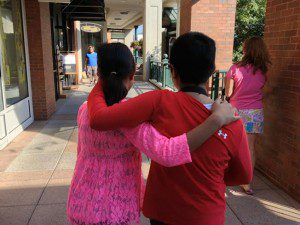 Last night, after dinner, with my in-laws out visiting my sister-in-law and my husband upstairs putting our youngest to bed, I drew the curtains on the world and called Lil D to join me on the family room sofa. Amal was already there, nose buried in a Nancy Drew mystery. And Lil D came bounding up the stairs. Seeing me on the sofa, no phone in hand, no laptop open nearby – his face lit up.
I could almost hear the thoughts in his head: Ahhhh Mamma. We're going to chill now. No distractions.
Amal joined us in one big pile of cuddle. These children of mine, these growing-too-fast-nearly-taller-then-me children. They drew so close to me that I imagined I could absorb them back inside of me when they belonged just to me and were solely under my care and protection; where I didn't have to trust the world to do right by them.
I spoke to my husband later that evening: Does it ever weigh upon you?
What? He asked me.
The enormous responsibility of raising our children. And more so, Lil D. I mean, we always take into consideration his feelings, likes, dislikes and ability to tolerate or not tolerate things. We try to figure out what his choice is and honor it as best possible. But we are the decision makers. And it will be that way for his whole life. Doesn't it frighten you sometimes?
I visited a special education classroom in a school yesterday, one that was being considered as a possibility for Lil D to attend (yeah, it's not the place for him), and I watched the middle schoolers with their teachers. They had a range of special needs – autism, Down's Syndrome and others disabilities. The two teachers in charge shifted gears a dozen times over in the brief 30 minutes I was there – helping the kids with a science lesson, supporting them in the various ways they needed support.
They were dismissive of a certain students at certain times as he perseverated on a problem. As a mother, I wanted to rush in and solve the problem. I wanted to show the child that I saw him. I heard him. His problem was worth my attention. But I was seeing a mere snippet of one day in the entire school year. Perhaps this kid perseverates a lot, and sometimes ignoring him or redirecting him are the teachers best method of getting him to refocus on how to solve his problem.
It's hard to know. I don't know how else to say this, but it's really, really, really hard to know what is the right path for children with special needs. Parenting children is hard enough, but parenting children with special needs whose everything — everything — relies on your best judgment, advocacy and love – well that is the unbearable lightness of being.
I've been thinking a lot about Lil D and his right to live with dignity, self-worth and choice. I've been thinking about how his life is unfolding and what his future may be like. I've been thinking about how easy it is for those around him to speak in the third person about him when he's right there. It's rarely anything negative, but it's been bothering me – these conversations and daily questions about Lil D happening while he's right there.
He doesn't answer back. He most often doesn't even seem to acknowledge that he hears what is being asked or said about him. But what if he is absorbing it all? And what are his internal responses, the one that we never hear?
We sat in a room today — me, my husband, Lil D's teachers, his speech and occupational therapists and our county special education coordinator, trying to come to an agreement on an epic IEP (individual education plan) that we've been writing and tweaking and debating for the better part of two months now.
Theoretically, everyone in the room who is collaborating on Lil D's IEP, which takes the place of a yearly grade-level curriculum, is supposed to keep his best interests at heart. This is a document that dictates all aspects of his learning and learning environment, from where he goes to school to what kind of supports he receives to additional therapies to what goals and objectives he'll be working on.
We sat there for nearly three hours and went back and forth over his goals and objectives – how are they written? What will they be? How will they be assessed? How will they be measured? How will we determine what progress he makes? Where do we want these goals to lead? These nearly three hours of discussion on top of a prior meeting where we discussed and debated his IEP for another two hours.
And, as I sat there and advocated and debated and wrangled and listened and learned and decided things (along with the team) for my son, I thought about the glaring absence of him in that room.
I know of other parents whose autistic children attend part or all of their IEP meetings, so they can voice their own opinions on what they are learning and self-advocate for what kind of support they need. And I know that with the profoundness of Lil D's autism, there would not be much of a point to him being a part of his IEP meeting.
But that's the part that I've been perseverating on.
I don't want Lil D to be absent from the conversations. I don't want him to be missing from the decision making. I don't want him to be talked about like he cannot understand. I don't want his voice, nonverbal or otherwise, to go unheard. I don't want us to lose sight of who he is.
And I want everyone in his world to want that as well.
I want us all to share in this immense privilege and responsibility of the unbearable lightness of being.