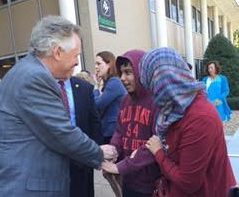 April 2, 2015, Autism Awareness Month (World Autism Day) – Day Two of Ali Family Autism Truths
On the drive to school, D's not feeling it. Arms drawn into shirt, the cries are starting and soon enough, he is banging his head intermittently on the back of my seat. He's not really hurting himself because the seats are soft, but it's distressing. He's obviously off — something is amiss. He isn't feeling well; he is upset about something, The cogs inside are jangled up. There's nothing I can do in this immediate moment, because my priority is to drive safely.
We get to school, and once inside, he lies down on the bench, arms still inside his sweatshirt, hood drawn up. He tunes me out and ignores the gentle questions of his teacher, who has come down to escort him up to class. I ask the nurse to bring up some pain meds, as I'm suspecting he is either coming down with something or still fighting off some illness (because he has been off for more than two weeks, because my mom radar is blipping like crazy, because there is illness going around his classroom). And once he is up and walking upstairs with his teacher, I call out my goodbye to him and walk out, silently saying bismillah, bismillah, bismillah over and over to myself.
Dear God, let him be alright.
I sit in the car and write this on Facebook in "honor" of World Autism Day:
It's apt that on "World Autism Day," D is not feeling it. He hasn't been feeling it for several days. The autism community will debate and rage against each other (because what community can be in 100% agreement) on lighting it up blue or not, on celebrating individualism or warning of a global crisis, on language, treatment, funding, cures, causes, support, services, education, awareness, action, research, advocacy, self-advocacy, respect, acceptance, priorities and everything in between. This is tough lifelong stuff for a staggering amount of wonderful people. Really tough.
You need to be part of this call to action, acceptance, advocacy and love. Wake up world – my son is part of you.
We find ourselves pulled in so many ways. There is so much I want for my son, for all my children. But at the end of the day, I just want his peace of mind. His health. His happiness. His safety. His right to self-determination. I want him to feel loved and respected, and know we feel his love. However we get there, however we are there, these are our choices, our battles, our promises to him and to each other, to his brother and sister.
Later on, I'm back at his school, because Virginia Governor Terry McAuliffe is there to sign into law a bill supporting the ABLE Act, which allows families to yearly put money into a savings account for their loved ones with special needs, tax-free, which won't jeopardize their Medicaid eligibility. It's pretty significant, and though the amount and types of changes that need to happen in our state and across the nation to better support those with autism is HUGE, I'll take it — any and all steps in whatever ways to build a better, more secure future for those with autism and special needs.
But here's the lasting truth of the day – after the photo ops are done and the pomp and circumstance subsides, and the kids. Two friends and I (we've known each other for years) stand around talking about our teenage sons, about where we are now and about all those new families coming into autism land (and there are a LOT). Are things any better? What does "better" mean? Because though we are through those first frantic years of understanding all this, coming to terms and pursuing therapies, interventions and education that will help our children, though we are now parenting teens with autism and our challenges and goals are the same, but all together different — is anything better? And my dear friend says:
Autism isn't any better. We are better. We have figured out how to do this. We have adjusted our expectations. We've learned to love all the small, awesome stuff. We've learned how to cut through the bullsh*t. We have a better idea of what works and doesn't work. We understand our kids better. We hear them better.
We are better.
Truth.