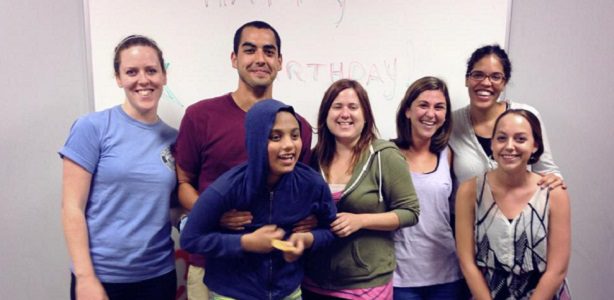 April 27, 2015, Autism Awareness Month, Autism Truths #27
At a birthday party we attended yesterday, the theme was superheroes. The kids were running around in padded superhero costumes, some with capes flying out behind them as they darted in and out of the house, bobbing and weaving through the adults. Teenage girls, the friends of the birthday boy's older sister, were also decked out in teenage-versions of superhero costumes. They were giggling, laughing, taking selfies and scarfing down pizza.
I had brought A and two of her cousins with me to the party. They were having fun as well, among themselves and trading jokes with the other kids. D wasn't with me, though, as I had sent him with one of his care givers to his annual spring Sunday afternoon activity – Open Gym.
Open Gym, which has been going for a decade where we live, is a program that pairs kids and teens with autism with high school students at a private schools here in town. Every fall and spring, for six Sundays, autistic kids and their "neurotypical" buddies get together and partake in various physical activities, from kicking soccer balls to playing on the playground equipment to walking laps around the track. D's been a part of this program from it's inception, and in the past ten years he's had some great pairings with some friendly, dedicated and awesome young men.
I lament the fact sometimes that D doesn't have any friends. He's not invited over to anyone's house, he's not out biking with his guy friends, he's not on the X-box gaming with friends. He doesn't seek out anyone in particular to eat lunch with, he doesn't have any buddies on a baseball or soccer team and he doesn't ask me to drive him to this person's house or if that person can come over and hang. In the classic sense of childhood and teenage friendships, he has none. Zip. Zero, other than his own siblings.
But that's not completely true, either. *Isaac over at Open Gym has been partnered with D for the past four years, since he was a skinny freshman and D was 10 years old. Nearly every spring season of Open Gym in the past four years, Isaac has looked for D, and D has enjoyed Isaac's company in the quiet walks they take around the track.
At D's 14th birthday last year, after years of not really hosting any type of party because I couldn't identify who D's friends were, and it seemed like he didn't care about having a party — I hosted a party at a local trampoline park. Four of his classmates, whose families we have known for years in our autism community as well as many of his current and former therapists and care givers came, as well as some of his cousins.
They had a blast. The joy on D's face was obviously visible. D may not have the type of friends and relationships that his brother and sister have with their friends, but he is not alone. The amount of friends and love he has amassed in his short life is staggering. Autism has brought a lot of ups and downs to D's and all of our lives — but perhaps the biggest life-affirming beauty has been the friendships we've made along the way. Because no one gets ours and D's life like our friends in the autism community.
The people we've met, the friends we've held on to, the relationships forged are extraordinary. When a crisis overwhelms us, the first to offer real and useful help (outside of our immediate family) are others living this autism life, no matter how complicated their lives are — because they truly know. Every few years I host a party at our home for D's friends. And, it may seem odd that most of those friends are his teachers and other adults who have worked with him and hung out with him rather than kids his own age. But whatever. His grin when they come over says it all to me.
In this life, the friends you choose along the way, the ones who stick by you, the ones you learn from and who learn from you, the ones who keep it real — they are the some of the best truths of our autism life.
I am thinking about this especially today, as we just learned that a dear friend in our local autism community, a passionate advocate for individuals with autism, suddenly passed away. His tireless work has reaped and will continue to reap beautiful and important things for those with autism and their families — for years to come. So God bless friends like Isaac. God bless the sons of some of my friends who have grown up with D. And, God bless John Maloney, an autism advocate, a fighter, a dad, a friend. From my update today on Facebook:
We converged in John Maloney's home several years ago, when the Virginia Autism Project was just conceived, and filmed a TV spot about "What's it like to have autism in Virginia." It was the start of years of advocating for an autism insurance law in our state. John was a tour de force for autism families. So many of us lived in and out of each other's lives with him. Under his and other's leadership, we got that autism insurance law passed. Then we got the age cap raised.

John started and ran Open Gym, a project D and our family and so many others have been a part of for years. Most recently he had reached out to several of us to start thinking and planning for fulfilling post-secondary programs and lives for our rapidly growing teens with autism here in Virginia. All the things we were thinking, he was out there doing.
He was that guy – that amazing, dedicated, prickly, awesome guy. Words cannot describe how shocking and sad it is to learn of his sudden passing. Our hearts go out to his family, to his children.

Innal lilahi wa inna lilayhi rajioon. From God we come and surely to God we return.
*Name has been changed to protect the identity of a minor.