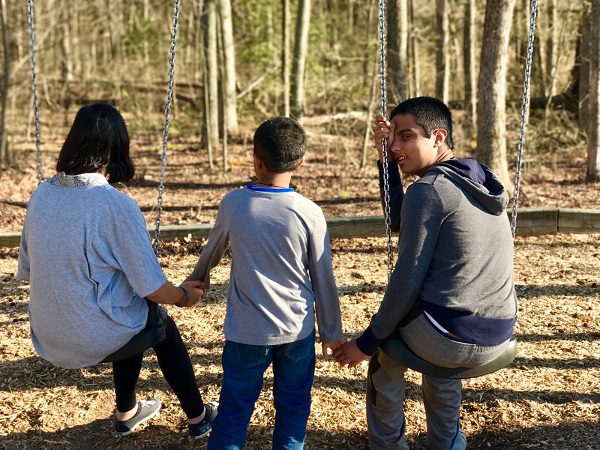 This is Day One of the Ali Family #AutismTruths – April 1, 2017. This month I'll be writing a series of letters.
Dear Friends,
Have a seat and get comfortable. Or, what's more likely – slow down what you're doing as you scroll this post on your phone. Lend me your attention for a few moments. It's that time of year again, and while I'd like to just go about our family's regular living (which is autism living 365 days of the year and not just one month), I can't let this occasion go by unrecognized.
It's April 1, which really doesn't register for us as April Fool's Day, but rather the start of Autism Awareness month. And, as a friend of mine says, awareness is good. Acceptance is better. But action is what we really need.
As this month was approaching, I was on the fence about if I'd do this 30-day series of autism posts again. After two years of sharing our Ali Family autism truths, I wonder what else is there left to say? We're kind of at the point that the most difficult and poignant truths we live are ones we must keep to ourselves – D's and our private truths. Those excruciatingly hard and breathlessly beautiful truths that we hold tight in our hearts. Truths we mourn over and celebrate in the quiet moments of the night when it all feels so very acute, painful and unbearable and precious.
D is 16 now, and I've been chronicling his and our family's story for five years now. It's been as necessary for me as I hope it has been helpful to you. But more and more in the past two years or so, I've written less about D, about all of us. Some of it is my struggles with what is within my right to say about him. Some of it is my own personal struggles that have manifested in more silence on the writing front.
The narrative around autism is changing – it's not so much about seeking answers as to why autism diagnosis in children are growing at such a fast rate (1 in 68 children are diagnosed with autism now, 1 in 42 boys and 1 in 189 girls, per the Centers for Disease Control) and what are the latest research-based treatments and therapies available.
It's more so about acceptance, empowerment, doing away with ableist language and handing the mic to those we should've been listening to all along – autistic individuals. It's about changing the narrative from one of epidemics and despair to one of hope, acceptance and positivity.
But isn't it both? If autism is a spectrum, shouldn't its narrative be a spectrum, too? I know our narrative is. I posted this a few days ago:
Here's a question – how do you find that balance or place for the narratives that celebrate the neurodiversity differences of autism and feature the voices and stories of those who are actually autistic and teach the world about acceptance, accommodation and inclusion, AND also openly talk about the challenges, the medical comorbidities, the huge difficulties some autistic individuals live with and make space for research to find causation, treatments, therapies and help that will mitigate these challenges and make lives better?

It's a mouthful, I know.

D's had it tough from the beginning. Very tough. Like simultaneously fill-my-heart-with-immense-love-and-fierce-strength-but-break-my-heart-in-a-million pieces tough.

Like it should not be this tough and difficult for him.

So, in our conversations – how do we acknowledge and tackle all of it?

This is some of what I'm thinking about as we approach another April and "Autism Awareness Month."
Dear friend – are you still with me? There's a lot I'm wrestling with. A lot I've been mulling over for more than a year. As D's been approaching adulthood, I've been poorly facing a lot of things that I used to face much better. And yet – and yet he is pushing forward in ways that leave me in awe. How is this handsome young man my son? How does he get up day after day, with everything that is so very challenging and lifelong for him, and live his life so strongly?
If I could have his strength – just a bit of it. Maybe in writing these letters I'll discover what he already knows – that even when we are lost and stumbling through the dark, even when our head is bowed down, there is light ahead.
Autism is a word. But autism living is a hell of a lot more.
Yours,
Dilshad