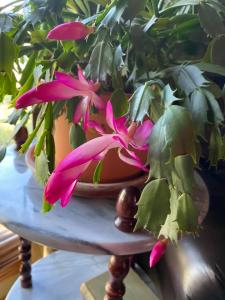 Good morning friends. Actually, it's just shy of noon here as I sit down to write down the stuff that's been flying around in my head.
I'm not sure how this post will turn out. I have so many things to talk about but I should probably focus on just one thing. Right? I don't want to be just one more person talking about the quarantine, or working from home, or how you should feel or how you should be prepping for Ramadan.
Because those thing aren't everything that's happening in my life these days.
Sometime last summer, in the midst of my recovery from hip surgery, Khaled and I began discussing the trajectory of our family's religious educational journey and needs. What we wanted: a place where our whole family could feel comfortable attending Jummah and other services, a place that would reach the needs of our family and not just the obligatory showing up for Jummah. A place that would welcome me as I am, and not shame our kids for being who they are.  People who spoke to our children as having knowledge and connection with their religion, not assuming they are ignorant because their mother is not Muslim. Sunday school without homework, Quran without memorization but understanding. A home away from home.
We found all of these things waiting for us at The Islamic Center of Greater Toledo. I looked into the Sunday school, and based on the website, it seemed a perfect fit. Our people would attend various lessons while I studied conversational Arabic. We would then go to the Sunday lecture. I reached out to the director of the Sunday programming and spoke with her over the phone. She promised no shaming, classes in English, and no homework. The emphasis was on understanding and not on fear. She was welcoming and helpful and I felt really good about meeting her the following week.
We arrived and after people started to settle in, I was approached by the Council Vice President and she knew me by name, welcomed me and the family to the center and made sure that we were comfortable. We had people to sit with while we waited for the registration to start. At one point the Sunday school director came over, gave me a hug and said that she was so glad we were there. We talked with an acquaintance and then we all met the Imam. All. Of. US.
He came over, introduced himself, spoke to us and made sure that not only did Khaled and Mr. Fox felt welcome, but he spoke to the girls and to me. He spent time getting to know our family. The first time we met the Imam, he spent over 20 minutes getting to know us.
This is HUGE to me. This is really, the first time I've ever felt this comfortable, right off the bat. It was a relief to see someone talk to our kids an see them for how awesome they are, not for what they are not. I could feel the acceptance. That's something I've been missing since the last time I was in a church home.
Really. That was the thing that has always been missing. People that accept us for who we are and not judging us for who we are not. Letting us know by words and actions that we are welcome and wanted there.
Since we've been home during the quarantine, we've been watching the Friday Jummah services on Facebook live, and in about an hour, we will log in to watch the Sunday lecture. Even when we miss the lecture, I listen later. It's worth my time because I hardly ever walk away from one of the Imam's talks confused or left out.
*********
So, How are You?
Okay, read this post from Twitter:

So, again I ask, How are YOU?
Because I'm not doing that great.
I'm doing a really good job at making sure everyone inside my house is cruising along evenly…and even when I'm having a really, really awful day and I ask for help. Everyone else seems to just take it in stride and cruise right along. They are doing their studies, hanging out together, playing games, watching stuff, taking walks, skateboarding when it's okay…and pitching in when I let them know that there is something that needs done.
Khaled has been great transitioning into my world now that he's home 95% of the time, and he has taken over the cooking in a way that I will always be thankful for. But it wasn't that easy during the first 2 weeks. I was anxious because I need a lot of time with no people. No interacting. And Khaled needs people. He needs interacting. So, we had to find a balance that we have never had to have before in our relationship. When he was working, I would have my time, and when he wasn't it was his time. Now, we are overlapping and doing our best to honor each other's needs.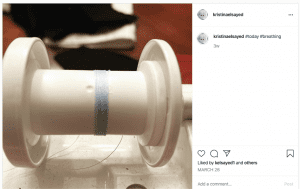 I spend a lot of time listening to audiobooks and right now, I can't listen to anything new. So, I've rediscovered the Harry Potter series. It's comforting because I know most of what's happening. I listen to some podcasts when I feel like I have the energy for it. I found that I'm doing things each day in a sort of loosely formatted routine, but it's flexible because I'm listening to my body. I have periods of time that I can concentrate, but I spend a lot of time playing Animal Crossing. I can sew stuff, but I can't make jewelry. I can bake things but only if I have a helper. I only want to eat breakfast, all the time.
Ramadan is in just over a week now and again, I am looking at it coming like a foggy morning rolling in. I see all of the posts on Instagram of people being excited…crafts and decor and plans and figuring out how to Ramadan when you can't have big Iftar gatherings. Back in February, I was in preparation mode. We had ordered dresses for the girls, I was planning on getting my dress altered and we all would be wearing flowers this year at The Unified Prayer. I was planning on ordering a wreath for my front door that would match the table cloths that Khaled brought back from Egypt. I wanted cloth napkins to match and we would have special desserts now that I have a maamoul mold. My people would go out for breakfast with their friends, we would have Iftar at our house and their houses.
But that was before.
Now, we have dresses for the ladies, but none of the other plans really seem worth it. I'm doing my best to keep it all together and just do the things that need done. I asked our people last week how they wanted to prepare for Ramadan this year, and they said that we didn't need to organize Iftars over Facetime, and I didn't need to orchestrate something more than what we already have. They said the best parts of Ramadan are waking in the morning together and then breaking the fast all together. They love the lanterns that we set around the house, but we don't really need to do more than that.
The Ramadan feeling happens on it's own.
So, you don't really have to succumb to all the lists and stress and live up to the Pinterest holiday during Ramadan. Just let it happen, naturally. Do your best, and focus on what really matters, because that's what God wants anyway.