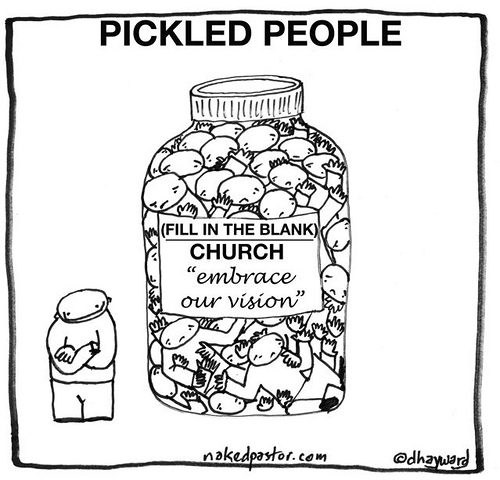 Strange things happened when the church I used to pastor renounced vision. It used to be a church that thrived on vision. There was the annual seeking of vision from God, then articulating the vision and then the vision casting, along with banners and meetings and reminders. Vision was its blood.
Then the church gradually let visionary thinking go. It was a tough transition, including a painful church split followed by slow leakage. But I felt, along with so many others, that the church was so far better off for it all.
But here are a few observations of strange things about the process:
People really loved the visionless way of doing church. It was more authentic, real, raw, spontaneous, relaxed, gracious, open and stressless. People felt free to be who they were without having to conform to the church's vision or mission statement. Even visitors remarked on how unusual the church felt. They loved the spaciousness.
But this is when it gets weird. People wanted to package and program it. It felt so good, that they wanted to make it our vision. They wanted a vision statement that articulated this visionless way of being. They couldn't see the irony and even the destructiveness of this desire. They couldn't see that as soon as you make this freedom a law, this grace a rule, this spaciousness a requirement, then it would kill it almost instantly.
Others wanted to keep the freedom but also wanted to add visionary thinking and mission statements. "But what is our purpose?" "What are we about?" "What is our mission?" "What are we supposed to be doing?" Questions like this would emerge. I tried very hard to explain that just being and allowing this to be our fruitfulness. But so many couldn't get it. They didn't realize that, like yeast, as soon as you add a little bit of vision to a visionless community, it would affect the whole batch. It would ruin everything.
I claim you can't have both. You can't be a free and open community and a visionary one at the same time.
I've written a whole book on vision "Without A Vision My People Prosper": click here.