My post last month with the story of the Oak King and Holly King in the age of global warming certainly touched a nerve!  I am so glad that so many people found it helpful and moving.  It's part of something I've been thinking about and working on for a number of years – the ways we as humans have thrown our weight behind the forces of warmth and light in a way that is destroying us along with the planet.  There is a desperate need to restore the balance.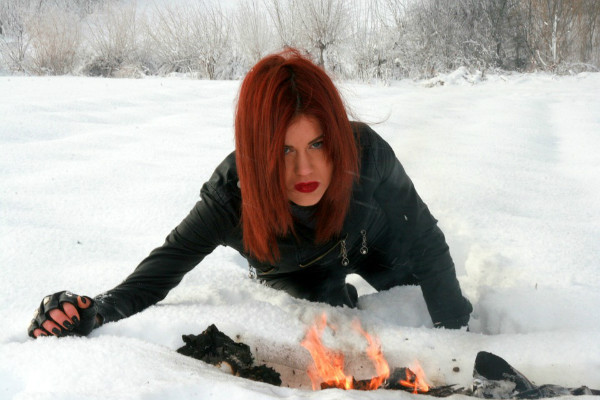 I believe that along with the more practical, hands-on work of mitigating climate change and repairing the damages we've done, another part of the work of restoring balance comes in the stories we tell and the rituals we perform.  If every story we tell of light and darkness celebrates the light and fears or shuns the darkness, that is not balanced.  If every story we tell of warmth and cold celebrates the warmth and speaks of driving away the cold, that is not balanced.  In an age where heat and light have become so ubiquitous as to be dangerous, we need new stories, like that one.
We also need new rituals, rituals that honor darkness and especially cold.  Rituals that have as their explicit intention the return of winter to the world.  Rituals like this can help us align our deepest selves to the task of restoring the balance, and they can give us energy and encouragement to do the work we need to do in the physical world.  Of course, if you believe in the efficacy of ritual to directly affect the world around us, then it becomes even more important to have rituals that are aligned with this purpose.  
When I first started thinking about ritual design to address global climate change, one of the first rituals that came to mind is a common practice in Imbolc rituals: the melting of snow with fire, to symbolize and call forth the coming warmth of spring.  In a world where warmth has become dangerously unbalanced, I thought, this ritual needs to be changed.  So, I wrote a new version.  I shared it in a piece on this blog several years ago, but I still think this might be the most powerful piece of ritual magic I've ever come up with, so I'd like to share it again.  Here it is:
Restoring Balance Ritual
Officiant says: For many years, participants in rituals at this time of the year have used a fire in the circle to melt snow, that the snow might quickly depart and spring come swiftly.  Today, we are reversing the working.  We will light a fire and use snow to quench it, that the excess heat of our world might be quenched and balance restored.
[Light a fire in the center of the circle.  If you are inside, this should be in a vessel such as a cauldron.  If you are outside, you can light a bigger fire in a fire pit, as long as you have enough snow or water to extinguish it.  The fire needs to be big enough to last through this part of the ritual.  If you are worried about it, you can wait and light it later, just before the extinguishing ritual.]
Officiant says: As we quench this fire with this snow, we commit to working to quench the heat that is threatening the climate of our planet.  We commit to restoring balance.  
In this work, we ask for the help of the God as Jack Frost.  Guardian of ice and snow, help us to restore the ices and snows of our world.  Give us your strength and your protection in this work.  In this work, we ask for the help of the Goddess Bridget in her aspect as healer.  Bridget, help us to heal our fragile planet.  Give us your love, your wisdom, and your strength in this work.  
As we pass the vessel of snow around the circle, you are invited to add your energy to this work, by holding the vessel and sending your intentions into it.  
[As the snow is passed, lead the participants in an appropriate chant to help raise power.
Vessel is passed to all participants.  When all have had a chance to add their energy, place the snow onto the fire until the fire is extinguished. If you have passed only some of the snow, be sure to start with the vessel that was passed.]  
When the fire is out, the officiant says: Let balance be restored!  So mote it be!
All respond: So mote it be!
Image courtesy of Pixabay, CCO License.