I have been struggling with hopefulness these last few weeks when it comes to my love for the planet, the ecosystems in which we live, and the clear signs of climate change around the globe. I am finding myself more and more overcome with a sense of despair for our future, for the future of our children and their children. Lamentation is a necessary and essential part of the human experience, but for balance, and for thriving — not merely surviving — I believe it shouldn't be the only thing we are compelled to do to get us through hard times.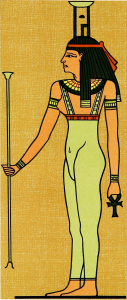 Nepthys
I have a small collection of books that provide daily pieces of history or inspiration. I often turn to them when I find myself in need of a jump start or a change of direction in my spiritual work. One of them is 365 Goddess, collected by Patricia Telesco. The entry for September 13 is about Egyptian All Souls Day, the feast day for the goddess Nepthys. There's a lot to venture into when seeking guidance and nourishment from a deity of a tradition far from one's own — I am a white, western, European woman, and I seek to be sensitive to how much the people of my history appropriated and stole from others. It's a tension present in all of my work as a UU minister.
But on this day, when I am attempting to resist despair, and to lead a community into a better future, the gift of learning about Nepthys has been a gift. Telesco writes, "In Egyptian tradition, Nepthys lives in the east, where she can receive the rising sun, a symbol of the hopefulness she can instill and of resurrection." She is a funerary goddess who helps us to grieve and move forward, so we do not get stuck wallowing in our past. She is a caretaker of what has come before, allowing us to honour our dead and keep them in our hearts while we envision and create the future, knowing that one day, we too will be in her care.
Telesco suggests that if we find ourselves struggling with despair, struggling to be hopeful, that we light a candle to Nepthys each day, inscribed with a symbol of what we need to change or be resurrected into order to have hope guiding us once again. Even without a candle, I think each of us can think of a symbol on which to focus our energies, to help us build resilience and stay creative in these hard times. I don't wish to offer platitudes here — the work of repairing our relationships with the planet is hard and will only get harder. We are up against powerful systems who wish to hoard their privilege at the expense of others. But our futures depend on our ability to find and nurture practices that keep each of us in touch with our sustaining beliefs and living into our shared values.
Where are you finding hope today?
* photo of Nepthys courtesy of Wikimedia Commons.