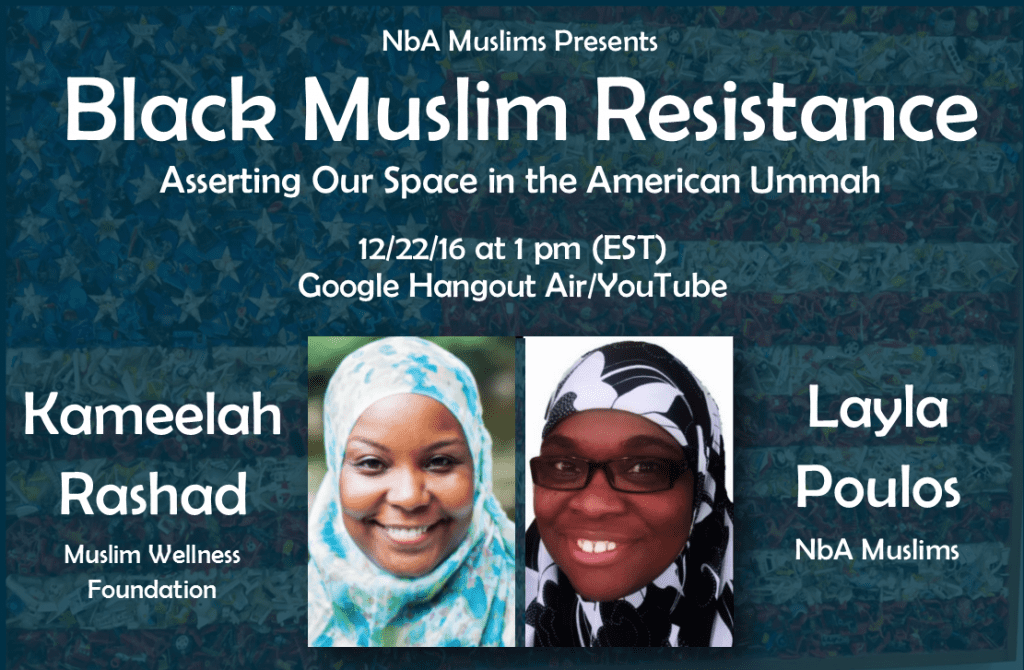 Black Muslims navigate discrete social intersections of religion, race, and national identity. As a subgroup of American Muslim culture, Black Muslims encompass a spectrum of national experiences, from the enslaved to immigrants. Black Muslims played a vital role in Islam becoming a bona fide American religion and can lay claim to a rich social justice heritage rooted in continuous resistance against racism and inequality since slavery as well as anti-Muslim discrimination, anti-Blackness in Muslim communities and immigration.
Black Muslims also conveyed principles promoting defense of self, self-sufficiency, and ethnic pride that still influence social justice efforts of Muslims, Blacks, and marginalized people in the society. With a surge of attacks on American Muslims and Islam as a way of life, Black Muslims potentially offer a counter perspective to narratives maligning the religion and making Muslims continually defensive.
Join Layla Abdullah-Poulos and Activist & Mental Health Professional Kameelah M. Rashad for an online discussion as they explore the importance of Black Muslim voices and perspectives to the American Muslim ummah and empowering youth with the knowledge, skill sets, and spaces to become confident leaders of the deen.
12/22/16 at 1:00 pm (EST) on Google Hangouts Air and YouTube
https://youtu.be/kMeOk5a1Zdk
For more information on Black Muslim history, watch these videos:
Islam's Intro to the US Cultural Stage: Part 1

Black Muslim Slaves – Yasir Qadhi

Islam, Slavery and the African – By Abdullah Hakim Quick

Kameelah Rashad:
Kameelah is the Founder and President of Muslim Wellness Foundation (MWF), a nonprofit organization dedicated to reducing stigma associated with mental illness, addiction and trauma in the American Muslim community through dialogue, education and training. Muslim Wellness Foundation envisions a future in which faith communities are at the forefront of mental health advocacy and committed to developing an inclusive culture of compassion, understanding and support.

Kameelah is the Fellow for Spirituality, Wellness and Social Justice at the University of Pennsylvania (UPenn). She served three years as the Muslim Chaplain at UPenn and continues to facilitate discussions on religious identity development and challenges faced by American Muslim youth. She is also a resource to the wider Penn community and administration on Islam and Muslims.
In addition to Kameelah's involvement in mental health advocacy and religious life, she is a proud social justice activist working to inspire, empower and support grass roots mobilization and direct action to address police brutality, racial & religious profiling, unlawful surveillance and the overpolicing of America's Black & Brown communities.