#BeingBlackAndMuslim means being affected by both White and Arab supremacy.

— Wayfarer Mama (@WayfarerMama) February 15, 2017
On February 14th, Black Muslims of numerous backgrounds took to Twitter for the Muslim Anti-Racism Collaborative's #BeingBlackandMuslim chat.  This was the 4th year of the Twitter chat, which asked participants to answer six questions:
What are the effects of 45's Executive Orders on #BeingBlackAndMuslim?
How can we counter the erasure of #BeingBlackAndMuslim?
What are #BeingBlackAndMuslim led initiatives we should support?
Who are #BeingBlackAndMuslim scholars, activists, leaders, artists, and writers we should follow?
How can allies support #BeingBlackAndMuslim?
Share your images of #BlackJoy about #BeingBlackAndMuslim.
Black Muslims from across the nation took the opportunity to answer the questions and voice their experiences.
#BeingBlackAndMuslim means we aren't in despair over Trumps EO's BECAUSE we've survived colonialism, slavery, segregation and genocide

— Asha Noor (@RajooWeyn) February 14, 2017
It was a deliberate oversight to ignore 2 of the 7 Countries listed on suspended #MuslimBan was #Sudan and #Somali#BeingBlackAndMuslim

— Hanif J. Williams (@HanifJWilliams) February 14, 2017
#BeingBlackAndMuslim means not getting overly worked up about Trump being in office. This is nothing new for us.

— Dawud Walid (@DawudWalid) February 14, 2017
#BeingBlackandMuslim means battling erasure…

— Idil Issa (@idilosophy) February 15, 2017
#BeingBlackAndMuslim knowing there are more Muslims in Ethiopia than Iraq, and in Nigeria than Egypt yet their struggles are ignored

— A (@AmalAkilYare) February 14, 2017
The largest group of Americans Muslims is the least likely to be invited to speak on "Muslim issues" in the media #BeingBlackAndMuslim

— Hind Makki (@HindMakki) February 14, 2017
MuslimARC co-founder provided and inspirational  thank-you video:
Thank you beautiful #BeingBlackAndMuslim peoples and allies. jazak Allah kheir!! pic.twitter.com/U35O5fx01P

— Margari Aziza (@Margari_Aziza) February 15, 2017
The hashtag trended and drew a slew of racists and Islamaphobes, but who really cares about them?!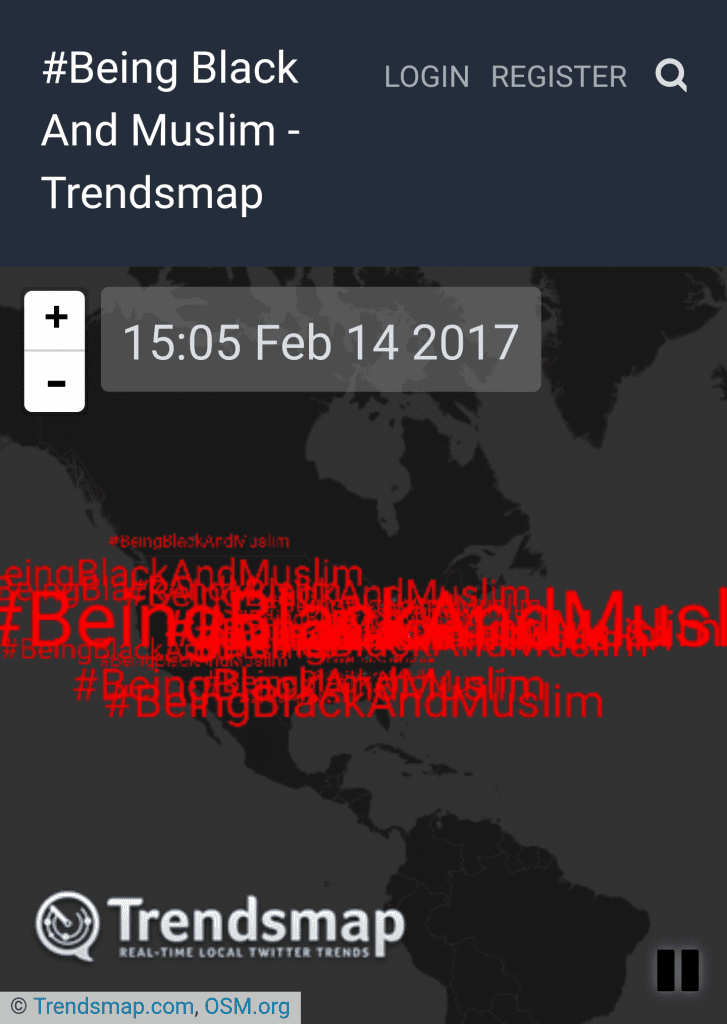 Another successful #BeingBlackandMuslim Twitter chat demonstrates the need for further appreciation and amplification of Black Muslim voices and the insight of the Muslim Anti-Racism Collaborative in providing a platform.
Read more conversations at the  #BeingBlackAndMuslim hashtag.