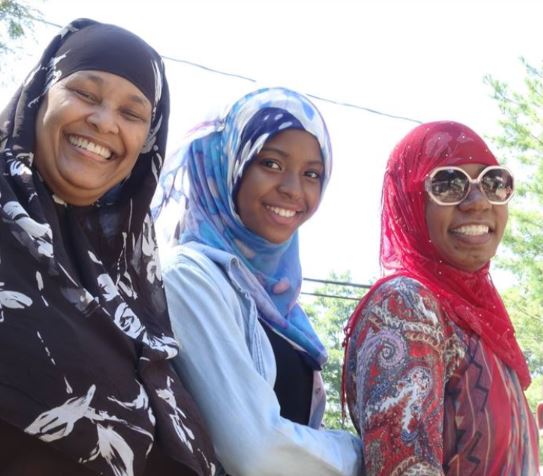 Poet ALKEBULAUN (Arleym Habeeb) presents Black Muslim women a poem for Black History Month.
By Layla Abdullah-Poulos
African American and Black Muslims have owned Black History Month this year. Multiple endeavors by Black Muslims encourage everyone to appreciate how very totally determinately Blackity, Black, Black, Black Islam is in American culture.
African American Muslims served as the stabilizers of Islam in the United States and continue to be a main representative group in American Muslim culture with dynamic identities that demonstrate solid ownership of Islam and Americanness.
African American Muslim women consistently blazed trails in social justice, intellectual and artistic spheres that allowed Muslims from varying backgrounds opportunities to explore. They are the original, Khimar-wearing American Muslimah who unapologetically assert their Muslimness, Blackness and Americanness, daring someone to start something.
In Noir Amour, poet ALKEBULAUN (Arleym Habeeb) presents Black Muslim women a poem for Black History Month. AlKebulan centers heritage to show a historical continuum of love for Black Muslim women and people.
Noir Amour by ALKEBULAUN
Have you ever been in Love

Photo Source: Arleym Habeeb

with a being of Love

While wrapped inside God's Deen of Love?
This Love, that God sent to me
stretches back for thousands of centuries! Back, Back, Black
To the days of Old
when our images were
engraved in gold
When righteous men with the darkest Skin
would parade the globe
we were soul mates far before
our souls' mates were raped & sold
And inside of our hearts
a melody plays
Songs of how a LOVE that stretching across
Decades upon decades could never decay
Because When you have said
"I Love you"
in every single language
there is nothing… left… to say,
My tongue has swam through Swahili
my fingertips have carved graffiti
of my Queen Nefertiti
In the halls of pyramid walls
So the entire world would see me
Before selfies and Duck Lips
U would pose
with your thick hips
in pics, painted in hieroglyphs
Remember our children of Israel?
when we watched by GOD's decree

Photo Source: Pixabay

How Our prophet Moses raised his staff then split the red sea

That is the love that stays hidden inside of us!
Together we would worship ALLAH
and never worshiped Osiris
Remember the love notes we would pass on paper made out of papyrus
until those merchants
ships came searching just 2 find us
they gave us designer auction blocks built For Us to buy us
And even through all the lies & falsehood
I still found the Truth in my sweet Soujner
You became my Harriet
and I…Was your Nat Turner
How many times was our black skin with the blueish hew
Beaten and bruised till
The back of you was left
Black & Blue
The pain of hearing you cry
Teardrops falling from your Bloodshot, blackened eye!
While I kept finding those
six million ways to die
trying to save my Nubian Princess Di, Before my princess died!
But your kiss…
Left me with the remnants of God's remembrance
just a simple kiss from your lips could ease the pain
from each blow of our captors' whips!

This Love is our Legacy!
Bondage was never bondage with you next to me!
Oh, How you used to recite the Quran in the early dawn
while cotton plants lay
inside our palms!
& After we used to pray,
you would always say
Only God's passages
could give us passage

Pic Source: Pixabay

through the middle passage!
Just look at these hurdles
we had to come over
in order for us to overcome our soul's being overrun!
And in one blink
Our Love has endured atrocities
that have made so many extinct
Our Love has bathed in God's Mercy & suffered through
God's wrath
Our Love landed on Plymouth rock and Broke the Rock in half!
And the secret of our love…
is locked inside of our Melanin
hidden Inside of that smile and your child like grin
it echoes from out of your voice inside of God's guiding hymns
My sweet, sweet Bilalian
Our love is the sound of Bilal's voice, saying the Athan again!
No Becky can Beckon me
from the day of her reckoning
No singing Sirens, no symphony playing violins
Can call me away from my royal highness
Through your loins
Is how our legacy would last
Even when I had to grow
From Red, past Malcolm
To Malik, you were always
my Betty Shabazz!
Our love is beautiful!
Beautiful like Sheba's Throne,
Like an Aretha song
like costing on the cost of
Costa Rica until Kingdom Come!

Photo Source: Pixabay

Beautiful! Beautiful like,

owning your own acres of an orchard
Like owning a mule
& 40 acres of orchids
Like Solomons fortress
like you next to me
Floating in a sea full of porpoise
with absolutely no purpose!
Imagine Angel-driven carriages
And heaven-gate marriages
Now do you see why our love
was hidden By the Heretics
Because the miracle of our Love
…is in the history of our heritage!
ALKEBULAUN
>The year was 2000, and a Muslim Hip Hop group named "Suni Tribe" just won the Buffalo Music Awards. One of the emcees was Arleym Habeeb aka
> The Black Moor (Now Alkebulaun). After winning the Buffalo Music
> Awards, Arleym Habeeb slowly left the stage as a hip-hop artist &
> drifted in the poetry arena. After cultivating his skills as a poet
> and winning several Poetry Slams, Arleym started to realize he began
> only writing for the crowd and Judges. At that point, he left the Hip
> Hop and Poetry scene completely, all the while watching his brother
> Quadir Lateef shine and flourish in both venues… But as the state of
> Consciousness worsened and after years of hearing the call from Quadir
> Lateef to jump back into the battle to create conscious music to
> combat the constant flood of ignorance over the airwaves indoctrinating our youth.
> Now armed with emceeing and spoken word, Arleym Habeeb
> has now joined the battle of good vs evil under the name ALKEBULAUN.
Follow ALKEBULAUN
Instagram: @ifrumiwasblack
Twitter: @ALKEBULAUN
Free Album Download
ALKEBULAUN'S The Warrior, The Poet, The Lover . . . The Lyric 
Bandcamp: ALKEBULAUN