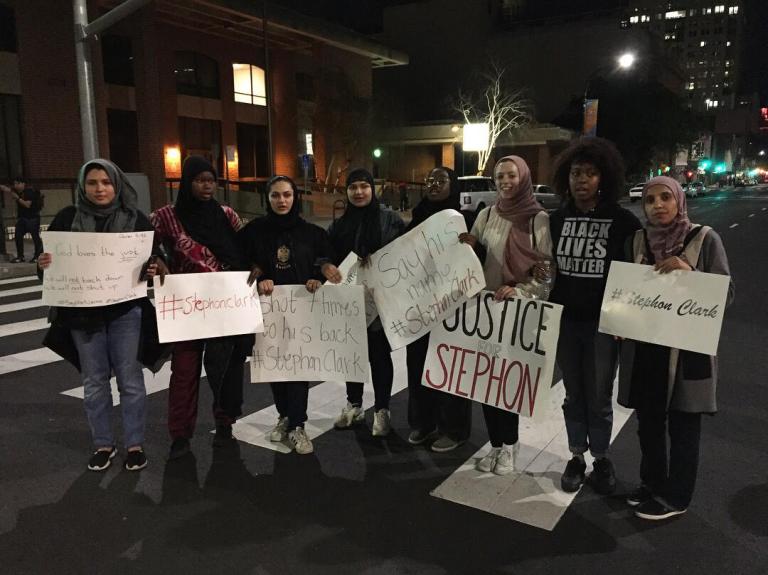 Original Post – About Islam
By Layla Abdullah-Poulos
NEW YORK – In the US, Black Muslims and their fellow Black citizens mourned the death of another gunned down by police violence.
Stephon Clark, 22, an unarmed African American man, was shot 8 times in the back, neck, arm, shoulder, and armpit, which many consider a contradiction of police account that he was posing a threat at the time of the shooting.
Clark's death is one in a line of police violence that disproportionately affects African Americans and Blacks, who are three times more likely to be killed by law enforcement.
"Far too many Black communities, including Black Muslim communities, have been painfully aware of the ways that law enforcement officers can abuse their power and engage in discriminatory and unjust conduct," explained Jonathan Smith, legal advocate for Muslim Advocates.
"The tragic death of Stephon Clark is sadly only the latest example of what has sadly become an all-too-frequent trend."
Black Muslims in the US have consistently been on the ground combatting police violence, joined by a comparatively small number of non-Black Muslims.
When the reports of Clark's death spread, it garnered attention from the typically small number of Muslims active in speaking out against police brutality.
"When word first got out about Stephon, the presence of his story on my social media was quite a gradual," activist Paige Ingram told AboutIslam.
"I saw a lot of the same folks that I always see engaging in uplifting the narrative around police brutality of Black folks were the ones who were amplifying and reflecting on it."
However, when information that Clark was a Muslim convert emerged, attention about his death expanded.
"I remember a distinct moment quite late at night when I suddenly saw on Twitter distinctly Islamic messaging about Stephon Clark and it was confusing and perplexing to me," said Ingram.
"That morning, some few hours later, was when I realized that essentially word had gotten out that he was, in fact, Muslim and that uptick— that surge—was particularly from non-Black Muslim people."
Many Black Muslims expressed concern that raised interest about Clark due to his religious identity demonstrates a disturbing ambivalence about a significant social issue that jeopardizes the lives of Black Americans of all faiths and backgrounds.