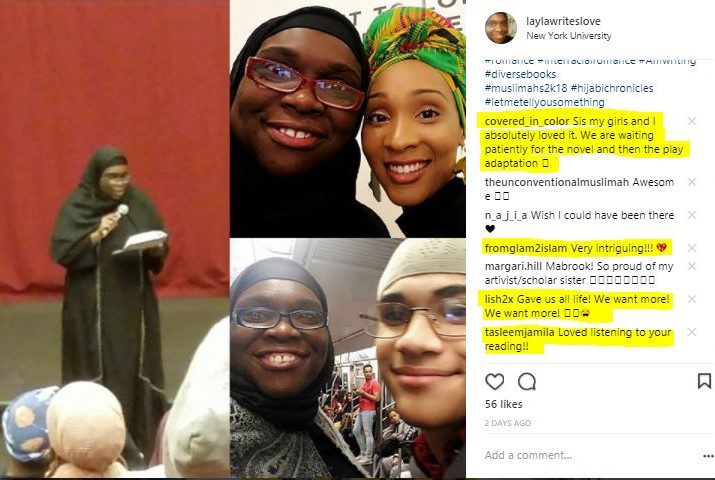 By NbA Muslims Staff
This year's The Hijabi Chronicles at New York University featured an array of hip-hop and spoken word performers. NbA Muslims creator and ME, Layla Abdullah-Poulos was invited by organizers to do an authors reading of her work.
Layla, who writes under the pseudonym Lyndell Williams, will be releasing her first novel, the much-anticipated interracial romance My Way to You. The novel features Asian American lawyer Simon Young and pro-Black blogger Regina Kent. They are immediately attracted to each other, but familial and societal challenges force them to keep their relationship a secret, which can not last forever.
Layla enthralled the audience with a reading from her current work, Building on Broken Dreams, a second-chance-at-love interracial Muslim romance.
She talked about the important role of fiction as social commentary. "A lot of Muslim authors want to express and share their life experiences and social issues that are occurring," she
said
.
Before reading from the novel, Layla asked the audience, "How deep do you want to go?" After much encouragement to go very deep, she read a scene that garnered gasps and responses.
She received a lot of positive feedback and many listeners expressed excitement about the novel's release.
Follow Layla's Author accounts:
Facebook: @laylawriteslove
Twitter: @laylawriteslove
Instagram: @laylawriteslove