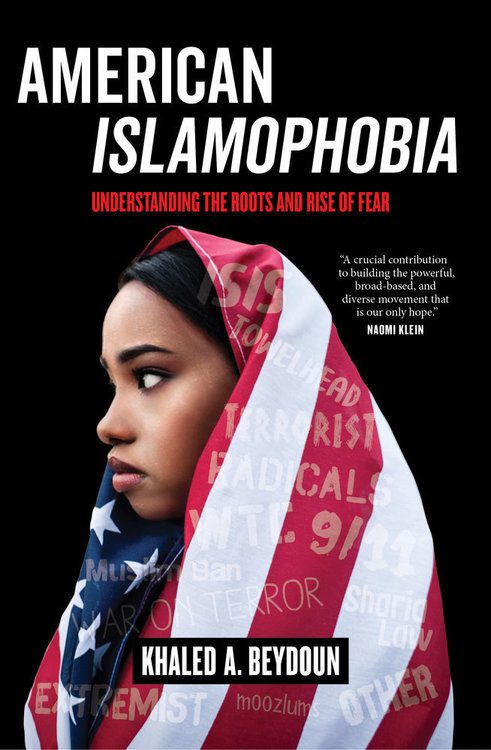 Review by Layla Abdullah-Poulos
AMERICAN ISLAMOPHOBIA: UNDERSTANDING THE ROOTS AND RISE OF FEAR
By Khaled Beydoun, Ph.D
University of California Press
$20.81, pp. 264. Paper
$14.55, pp. 265, Kindle
In his new book, American Islamophobia: Understanding the Roots and Rise of Fear, law professor and activist Khaled Beydoun speaks truth to power and encourages empowerment and liberation from subjugation.
American Islamophobia is a critical examination and explication of the multifaceted endeavor to dehumanize a diverse population of people based on their faith as well as its historical connections to the country's tenacious racial oppression systems.
The concept of Islamophobia remained an obtuse one for decades. Arguments about the term itself as well as a chaotic bombardment of perspectives from politicians, intellectuals, journalists, etc. created a convoluted sphere robbing people most affected by the oppressive system the ability to form cogent expressions of how it influences their lives as well as ways to resist. I likened it to trying to catch water in a sieve in a recent Radio Islam interview.
In American Islamophobia, Beydoun outlines levels of the systemic vilification and demoralization of Muslims in the society, key players, complicit participants as well as the need for American Muslims to get their shi stuff together—purge their intracultural biases—and understand the beast before it completely destroys them.  He draws from various disciplines to plug holes in the sieve and create a usable and expandable frame that dually gives those subject to Islamophobia a means to express their standpoints with confidence as well as enlighten the broader culture. Of course, one would expect no less from an acolyte of Kimberlé Crenshaw.
Unlike the plethora of books about Muslims in American society that limits experiences to passing-White Middle Easterners and South Asians (MESA), Beydoun is immediately inclusive and expounds, "Although conflated with Arab identity, the grand Muslim American narrative is actually rooted in blackness." That's right—Beydoun diverts from the standard rhetoric of so many non-Black Muslim scholars, intellectuals and activists, who reinforce the broad racial/ethnic stereotype held by the dominant society and ignore the diversity of American Muslim culture
He chips away at attempts to disregard the multifaceted nature of American Muslim culture as well as the misconception that those affected by Islamophobia are "merely Arab or Middle Eastern" or even Muslim.
The inclusion of a spectrum of Black Muslim women was especially refreshing. Black Muslim women are the least appreciated resource of American Muslim scholarship and social justice. Time and again, Muslims (yes, Black Muslim men too) in totality drop the ball on deferring to them to enrich perceptions about how systems of oppression work and feed off each other. Beydoun doesn't make that mistake and features some of the country's prominent Black Muslim women intellectuals and activists.
He also encourages American Muslims to embrace the idea of Muslim women leadership in creating an intersectional anti-Islamophobia movement that empowers and liberates all adherents and creates lines of solidarity with other social justice movements. Beydoun doesn't allow prevailing gender biases in American Muslim culture to overshadow the reality that women are the primary creators and maintainers of social movements.
Beydoun draws readers in with a well-crafted intro that includes an engaging narrative, something he does throughout the book. He doesn't simply present a critical frame for Islamophobia, he provides pertinent examples of how it is executed and the intricate ways it affects people's lives—all while sharing details about his personal life and experiences.
The book is full of anecdotal connections highlighting Islamophobia through the multicultural population subject to its layers. Beydoun amplifies a spectrum of American Muslim voices he's encountered, demonstrating that the author is not an ivory tower intellectual who pontificates from a distance or in an ethnic enclave. He navigated through numerous Muslim communities throughout the nation, talked with and listened to his coreligionists. His multi-racial/multi-ethnic approach in expounding on American Islamophobia informs readers about the rich American Muslim culture and reinforces ownership of it to Muslims beyond the limited MESA archetype framed by the dominant culture.
Beydoun clearly paid careful attention to readability. American Islamophobia is accessible and relatable, which is a challenge for some academics. The author's experience as an op-ed writer provided him the ability to transition between scholastic exposition and responsive prose.  I think he has done a stable job in writing a popular piece that can be used for instruction as well as opening scholarly dialogue across disciplines.
American Islamophobia contains some groundbreaking social, political and cultural analyses. Khaled Beydoun's critical approach and literary execution make this book a must-read for American Muslims and a seminal work for courses and intellectual discourse.
Follow Khaled Beydoun