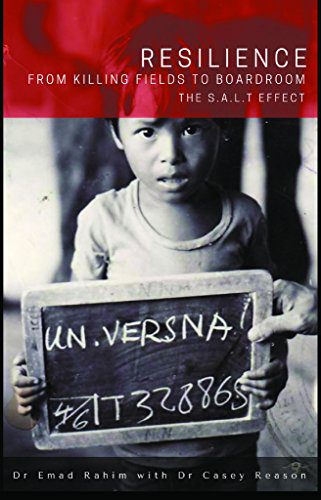 Review by Layla Abdullah-Poulos
RESILIENCE – FROM KILLING FIELDS TO BOARDROOM
By Emad Rahim, Ph.D
$17.99, pp. 106, Paper
$ 6.50, pp. 106, Kindle
There are books that we may read once or twice. We enjoy them—or not— and then shelve, give away, or toss them as necessary. Then there are those books that become mainstays in our lives for one reason or another.
For many Muslims, the Quran, ahadith books and scholarly works are staples in their reading repertoires, but not exclusively so. In addition to divine guidance, some texts provide sage advice, guidance, and opportunities for self-reflection, improvement and empowerment. We tend to keep those books somewhere, so we may avail ourselves of their words and think about ways to use them for our benefit at various points in our lives.
I have a special place for these kinds of books on my shelf. They are not with my Islamic books, but I make sure they are in reach, and I will pull one or more out as a need to read and grow from them becomes necessary. Resilience: From Killing Fields to Boardroom The S.A.L.T. Effect by Emad Rahim joined those books for a few reasons.
Rahim uses his life story as a framework for an approach to developing a mindset for business success, which he names the S.A.L.T. (Surviving, Adapting, Loving and Transforming) Effect. Rahim describes the pitfalls and triumphs in his life and how they served as catalysts for a self-reflective process culminating into an outline for internal growth and external achievement. By preluding each component of the success model with his biographical narrative, Rahim personalizes it and demonstrates it in praxis, which extends the book beyond being yet another business model for people in the industry. Rahim's personal story in Relilience allows for its use as an instructional tool in a human frame that helps readers to relate.
There is no lack of books outlining skills and mindsets needed to be successful in business, but this book ventures outside that. I was able to connect with many aspects of Rahim's story of individual resilience through multiple trials and tribulations. As a Black person in America, I was even able to empathize to a small extent with Rahim's surviving the Killing Fields of Cambodia as well as being an expendable member of society.
Rahim framed his personal stories in a way that made them relevant without centering himself in a cultural sideshow for the dominant gaze. He isn't telling the privileged about his life; his style made it apparent that his main audience is readers who may be considered just as disposable as the little boy on the cover.
Although the primary theme of Rahim's book focuses on corporate success, it can be utilized in many professions and disciplines.
Resilience
offers positive advice and skill sets for general personal, professional and leadership development to convey to those seeking growth.
There were a couple of execution issues. For example, the use of italics with inner and outer dialogue made it a little confusing to know when a character was talking to another or thinking. However, that doesn't detract from Relilience's powerful message and instructional value.
I also anticipated that the author would include a little more about his faith conversion to Islam, but I understand that he may have kept his religious development at a minimal to avoid it deflecting from the primary and universal purposes of the text stemming from societal extremes of aversion from or fetish for Muslim personal narratives.
After reading Resilience: from Killing Fields to Boardroom The S.A.L.T. Effect, I found myself wanting to know more about Rahim, his life, and the people in it. I hope the author writes a full biography in the immediate future. Until then, readers can learn about his transformation and acquire skills for their personal development and success through this book. I highly recommend it.
Read my interview with Emad Rahim in About Islam:
Immigrant Muslim Convert Finds Success in a New Faith & Country
Follow Emad Rahim