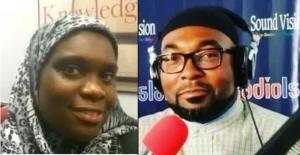 By NbA Muslims Staff
Tariq El-Amin and Layla Abdullah-Poulos's recent Radio Islam interview focused on the first all-Muslim panel at the 2018 New York City Comic Con. One of the largest cultural convenings in the world, the panel—moderated by Shamika Mitchel, Ph.D.—featured Muslim creatives sharing their works and experiences with the audience.
Abdullah-Poulos joined the panel as a cultural critic to talk about Muslim creativity as well as the merging of faith with artistry and societal challenges many Muslim artists face.
Spiritual identity and ethnic identity are intrinsically linked. You're definitely influenced by your ethnic culture. Comi con is a perfect example of culture outside of the teachings of Islam definitely influencing people, but Islam influences them as well. So, I want to dress up like Black Panther, but I'm going to wear my hijab. – Layla Abdullah-Poulos
El-Amin and Abdullah-Poulos discussed the importance of more appreciation of the cultural layers of the American Muslim experience.
[People] take out cultural adjectives and just say 'Muslim' and it's not. It's actually South Asian Muslim or Middle Eastern Muslim and not reflective of the African American Muslim, or European American Muslim or Latino American Muslim experiences here in the United States, then people are going to generalize. You need to put 'This is a Desi Muslim thing. This is a Middle Eastern thing.' You can even go to your country of origin, but it's not [simply] an American Muslim thing. When you think about an American Muslim culture, it would default be Black because we've been here the longest and we've been creating the longest and we've been influencing the culture the longest. – Layla Abdullah-Poulos
I like the idea of having spaces where we can celebrate our cultural differences but not done in a way that is disrespectful to anybody who does not share that same upbringing or culture. Those moments when we're able to come together and realize that we all bring something different, then, I think, the idea of an American Muslim culture presents itself. It's going to be one that patterns itself on the idea of pluralism, which is a reflection of Islam. – Tariq El-Amin
Listen to the full discussion.
Note: Quotes have been edited to maintain grammar and context.
Follow Tariq El-Amin
Follow Radio Islam USA

Follow Layla Abdullah-Poulos