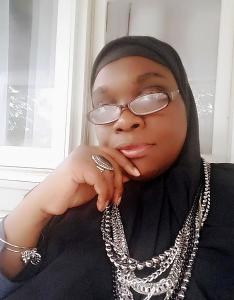 Original Post: SUNY Empire State College Exchange
Alumna and Adjunct Layla Abdullah-Poulos Publishes Multiple Manuscripts Highlighting Muslim Fiction
Note: Since the publication of this post, Layla's novel, My Way to You premiered in five Amazon best sellers lists on the weekend of its release.
The Journal of Popular Romance Studies has published a peer-reviewed article, "The Stable Muslim Love Triangle – Triangular Desire in African American Muslim Romance Fiction," by alumna and adjunct Mentor Layla Abdullah-Poulos.
The link to the article is http://jprstudies.org/2018/11/the-stable-muslim-love-triangle-triangular-desire-in-african-american-muslim-romance-fictionby-layla-abdullah-poulos/(link is external)
The article is an extension of her scholarship that started in the SUNY Empire State College School for Graduate Studies' MALS program. Since graduating, she continues to highlight the growing and distinctive Muslim fiction subgenre in the United States and globally.
She also had an article accepted as an addition to the Bloomsbury Handbook on Islam and Popular Culture.
In addition, her first interracial romance, "My Way to You," is scheduled for release on Dec. 1.
Abdullah-Poulos is managing editor of nbamuslims.com, the U.S. correspondent for AboutIslam.net and maintains an author's blog at laylawriteslove.com.
Abdullah-Poulos received the SUNY Empire State College School for Graduate Studies Dean's Medal as part of SUNY Empire's 44th annual statewide commencement exercises in 2016.Layla Abdullah-Poulos '10Abdullah-Poulos earned a bachelor's degree with SUNY Empire in 2010 and graduated with the class of 2016 with a Master of Arts in Liberal Studies(link is external) and a GPA of 3.95.
In addition to the dean's medal, her academic awards and recognition include:
• Chancellor's Award for Student Excellence(link is external), SUNY's most prestigious student honor
• Foner Fellowship in Work, Culture, and Social Charge
• Edwin and Ruth Decker Scholarship for Academic Excellence.
Abdullah-Poulos' master's research focused on adult learning, the educational experiences of women of color and the emergent sociocultural identities of native-born American-Muslim women, which led her to produce and present several scholarly papers, including "Breasts and Beards: A Lesson in Western Secular Extremism and the Significance of Cultural Relevancy" and "Anti-Obama Graphics: Hermeneutics of Racial Codes in Visual Representations." She launched and coordinated a meeting space for education and personal development among Muslim women, raised money and awareness for breast cancer research and has written articles for online journals.
A 2015 Capital District Leadership Council on Inclusion Award(link is external) recipient, she also was the founding president of the college's Minority Students in Action(link is external) club, a member of the Human Services Collaborative(link is external) and serves as vice president of the Graduate Students Association.
Along with her husband, Adullah-Poulos has home-schooled five children in Mastic, N.Y.