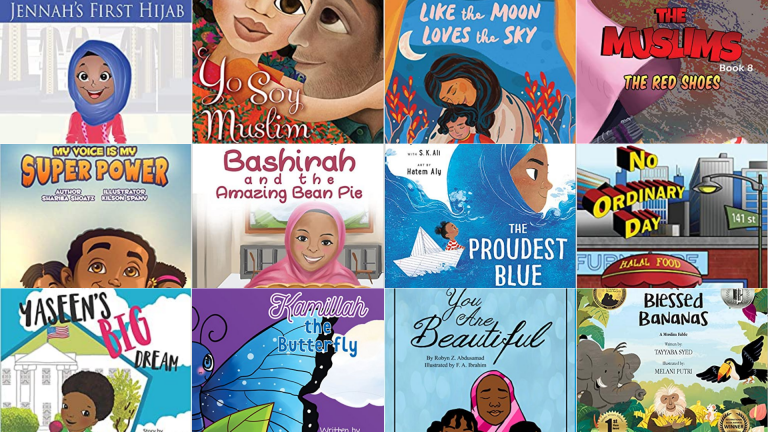 Faced with COVID-19 school closings across the country, millions of American parents seek ways to care for their children at home and make sure they take measures to avoid academic decline during self-quarantine. Muslim authors write children's books that provide entertaining diverse stories and give young people chances to read and learn about our multifaceted culture.
Here is a dynamic list of Muslim children's books to add to your young one's diverse library!
By NbA Muslims Staff
Bashirah and The Amazing Bean Pie, By Ameenah Muhammad-Diggins
Available at Amazon
Invite Your Children To Enjoy The Rich And Beautiful Culture Of African American Muslims. Bashirah And The Amazing Bean Pie Shares A Fantastic Story Of A Multi-Generational African American Muslim Family. A Ramadan and Eid Story A Heart Warming Tale Filled With Faith, Food And Family. Join Bashirah As She Celebrates The Eid Holiday! Celebrating Diversity
---
The Proudest Blue,

By Ibtihaj Muhammad
Available at Amazon
With her new backpack and light-up shoes, Faizah knows the first day of school is going to be special. It's the start of a brand new year and, best of all, it's her older sister Asiya's first day of hijab–a hijab of beautiful blue fabric, like the ocean waving to the sky. But not everyone sees hijab as beautiful, and in the face of hurtful, confusing words, Faizah will find new ways to be strong.
Paired with Hatem Aly's beautiful, whimsical art, Olympic medalist Ibtihaj Muhammad and Morris Award finalist S.K. Ali brings readers an uplifting, universal story of new experiences, the unbreakable bond between siblings, and of being proud of who you are.
---
Yo Soy Muslim: A Father's Letter to His Daughter, By Mark Gonzales
Available at Amazon
From Muslim and Latino poet Mark Gonzales comes a touching and lyrical picture book about a parent who encourages their child to find joy and pride in all aspects of their multicultural identity.
Dear little one,
…know you are wondrous.
A child of crescent moons,
a builder of mosques,
a descendant of brilliance,
an ancestor in training.
Written as a letter from a father to his daughter, Yo Soy Muslim is a celebration of social harmony and multicultural identities. The vivid and elegant verse, accompanied by magical and vibrant illustrations, highlights the diversity of the Muslim community as well as Indigenous identity. A literary journey of discovery and wonder, Yo Soy Muslim is sure to inspire adults and children alike.
---
My Voice Is My Super Power, By Shariea Shoatz
Available at Amazon
Helping children to know Body Safety Rules, and to speak up if someone makes them feel unsafe can be a challenging, and uncomfortable task for parents, caregivers, counselors and educators. Written from a child's voice and perspective, My Voice Is My Super Power will help make the job a lot easier. Buddy is a young boy who teaches body safety and helps his cousin cope with a real-life experience after she disclosed her abuse at their sleepover. With kid-friendly illustrations, and language, children can read this book alone, or with an adult, to know the concept that their bodies are their own, their voice is their "Super Power", and they have the ability to use it to speak up if they feel unsafe.
1 in 4 girls and 1 in 6 boys will experience some form of sexual abuse before the age of 18. All adults want to keep their children safe from abuse. Prevention is possible through education. This book can be used as an empowering teaching tool to keep our children safe, help prevent, and assist with ending Childhood Sexual Abuse.
---
The Muslims Book 8: The Red Shoes, By Ahmad Phillips
Available at Amazon
The Muslims book 8: The Red Shoes is a great addition to your Muslim children's book collection. In this book, a girl named Huda wants to buy some new red shoes, but her mom refuses. Allah has already given Huda a lot of shoes. But Huda desperately wants some more! How will Huda's mom show her the importance of being grateful for what we already have?
---
You Are Beautiful,

By Robyn Abdusamad
Available at Amazon
You Are Beautiful introduces the characters Zaynab and Zakiyyah, two sisters, who experience their first encounter with racial prejudice and who are saddened by what they hear. Throughout the course of the story, they overcome intolerance and realize the beauty of ethnic diversity and true friendship. This book highlights the importance of countering ignorance with knowledge and kindness.
---
The Blessed Bananas: A Muslim Fable, By Tayyaba Syed
Available at Amazon
Everyone in the village knows not to come near the cranky, old monkey Rico or his precious bananas. However, after some unwanted encounters, Rico learns a life-changing lesson. Find out how in this heart-warming tale of friendship, kindness and the power of prayer.
---
Kamillah the Butterfly, By Shoohadah Khanom
Available at Amazon
Kamillah is a caterpillar who is struggling to understand life's changes. With a friend by her side and discovering a beautiful surprise at the end of her cycle, she happily accepts the biggest change. A lovely book any child can relate too. It will definitely leave little ones wanting to read it repeatedly.
---
Yaseen's Big Dream, by Umm Juwayriyah
Available at Amazon
Yaseen has got some big dreams. He dreams of helping his family, his friends, and his community. But is it really possible for a kid like Yaseen to do all of those things? Of course, it is! Read Yaseen's Big Dream to follow him on an adventure unlike any other.
Other titles by Umm Juwayriyah
Hind's Hands
The Princess and The Good Deed
---
Jennah's First Hijab, by Halimah Deoliveira
Available at Amazon
Join nine-year-old Jennah on her very first adventure where she discovers the world of Hijab. Also, learn some interesting facts from Jennah about why girls and women wear hijab. This book is perfect for Grades K-3 as a way to introduce information from other cultures to create a diverse and inclusive environment.
---
No Ordinary Day, By George Green
Available at Amazon
Eight-year-old Ibrahim and friends win a Quran competition, where the prize sees them scoring tickets to watch an exciting football game after their class is paid a visit by Hakeem Mohammed, a star football player from the California Spartans.
Hakeem Mohammed and the California Spartans are in New York City for one of the most anticipated football games of the season. Ibrahim and friends unite with Hakeem in the locker room to meet the team before the big game. Though their meetings with Hakeem were brief, he instilled a life long impression before going on to star in one of the most memorable games in football.
This story unfolds in No Ordinary Day, the first book from 'Childhood Champions', a new series of stories about a group of Muslim children in New York City and their daily adventures.
---
Like the Moon Loves the Sky, By Hena Khan
Available at Amazon
In this moving picture book, author Hena Khan shares her wishes for her children: "Inshallah you find wonder in birds as they fly. Inshallah, you are loved, like the moon loves the sky." With vibrant illustrations and prose inspired by the Quran, this charming picture book is a heartfelt and universal celebration of a parent's unconditional love.
• A reassuring bedtime read-aloud for mothers and their children.
• A perfect book for sharing Muslim family traditions and for families teaching diversity and religious acceptance.
• Hena Khan's books have been widely acclaimed, winning awards and honors from the ALA, Parent's Choice, and many others.
For families who have read and loved Under My Hijab, Yo Soy Muslim, and Mommy's Khimar.
A sweet and lovely bedtime book to help let children know they are loved and precious.
• Bedtime books for ages 3–5
• Mother's Day gift
• Islamic children's books