This season I'm coaching my 5-year-old's t-ball team. We're still practicing and haven't started slugging it out of the park in games yet. Trying to get eleven 5-year-olds to all pay attention to one thing is about as fun as it sounds. Along the way I've learned five things that I think apply to church as well: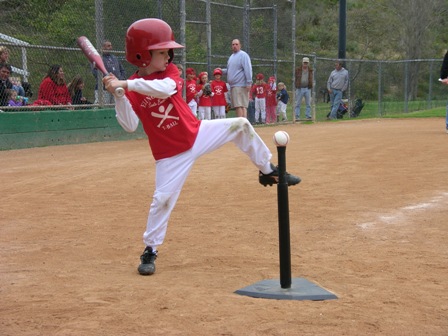 1. You have to have fun. I always tell the boys that's the only rule we have. If you're not having fun, why play the game? In the same way, church should be a celebration. Christ is risen! You're free from your sins! Your destiny in heaven is secure! If you can't have celebrate at church, why show up?
2. I can't just give instructions, I have to show. I can't simply tell the boys where to put their feet and hold their hands when they bat. For each one I've had to physically place their feet and move their hands to show them. In the same way, it's not enough to simply preach to people at church. We need to practically show them what a Christian life looks like.
3. They learn best one-on-one.
The kids move from hearing to understanding to learning when I work with them one at a time. Hearing it in a group isn't as effective. In the same way, churches should always be helping people move from large group (worship) to small groups, where they can practice and apply what they're learning.
4. They need lots of encouragement. They haven't done this before. They're scared. They miss the ball more times than they hit it. I spend most of my time encouraging kids to try again and not give up. In the same way, churches should be constantly encouraging their people. That's called grace. People struggle, people mess up. The church should be a place where they receive forgiveness and encouragement.
5. My job is to get them to fall in love with the game. At the t-ball level, I'm not working on advanced batting techniques or fielding disciplines. I'm simply trying to get the kids to fall in love with the game. If I do that, I've succeeded. In the same way, at church our overall goal is to help people fall in love with Jesus. Programs, budgets, buildings should all help and support that one goal. If we can do that, then we've been successful as a church.
QUESTION: What else would you add to this list?