Jesus is always calling us to take the next step of faith as we follow him. Here are 7 truths I've learned along the way as I've taken the next step: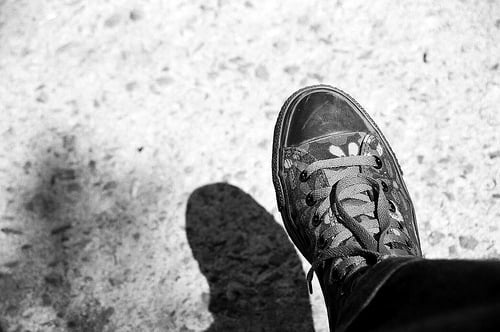 1. Every Step of Faith Requires Death to Self. Taking the next step is about surrender. Daily surrender. I have to be willing to put God's will above mine for every step of faith I take. That's a big leap of faith when he's asking me to trust his plans for my education, his plans for my career, or his plans for my family.
2. The Sacrifices are Real. The sacrifices hurt. I miss out on stuff. Others seem to get ahead of me in life. There are a lot of things I'd like to selfishly do for myself, things the rest of the world gets to enjoy. My time, my energy, my resources are no longer my own. The sacrifices made to follow Jesus are very real.
3. God doesn't Want Something From Me, He Wants Something For Me. This was a watershed truth for me to truly understand as I began to take the next step. When God wanted something from me, it wasn't because he wanted to deprive me out of joy or happiness. He wanted to clear away distractions that were keeping me from a deeper joy and happiness found in him. He wanted to take the saltine crackers and rice cakes away (what I thought was happiness) because he wanted to replace them with a filet mignon (happiness that comes from him).
4. The Goal of Next Step Is Always To Deepen My Trust In Jesus. The goal of the next step, really the entire goal of my faith, is to deepen my trust in Jesus. God uses circumstances, sacrifices and opportunities to help us depend more on him. That's why it's called a step of faith.
5. I Never Arrive. Beyond Each Step of Faith a Bigger One Awaits. God is in the faith stretching business, and I've never come to a place where God tells me my faith is big enough. It can always go deeper. There are moments I've chosen to trust him that in the moment seemed like huge leaps, but looking back they seemed like small steps compared to what God called me to next. I figure I'll finally arrive in heaven. Until then, there's always another step of faith out there.
6. God is Always There. God's asked me to do a lot, but here's what I've discovered: he's always been there. Always. He's never failed me. He's never let me down. God is the very definition of faithful. Through every next step, God has been there every step of the way.
7. The Grass is Greener on the Other Side. It really is. A life spent trusting Jesus, a life following Jesus step by step, is an incredibly fulfilling and purpose-filled life. The faith, hope and love that await those who take the next step makes all the sacrifices pale in comparison. But don't take my word for it. Discover for yourself. What's the next step of faith Jesus is calling you to take?