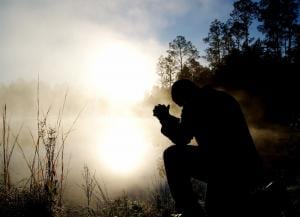 There's nothing more challenging to your prayer life than unanswered prayer. Why do our prayers go unanswered? Does God not care? Is he too weak to answer all of our prayers? Or is it something else?
Here are eight biblical reasons why our prayers may go unanswered:
1. We don't ask. I know this seems simplistic, but many of our prayers simply go unasked. "You do not have, because you do not ask God." James 4:2
2. Praying for selfish reasons. This knocks out a lot of our prayers. You can pray for $1 million all you want. Probably not going to happen. "When you ask, you do not receive, because you ask with wrong motives, that you may spend what you get on your pleasures." James 4:3
3. Sin in your life. Habitual sin can create a barrier between us and God, hindering our prayers. Keep a short confession list with God. "If I had cherished sin in my heart,
 the Lord would not have listened." Psalm 66:18 "If anyone turns a deaf ear to the law,
 even his prayers are detestable." Proverbs 28:9
4. Broken relationships in your life. Our relationship with God and our relationship with others are intrinsically linked. One always affects the others. "Therefore, if you are offering your gift at the altar and there remember that your brother has something against you, leave your gift there in front of the altar. First go and be reconciled to your brother; then come and offer your gift." Matthew 5:23-24 "Husbands, in the same way be considerate as you live with your wives, and treat them with respect as the weaker partner and as heirs with you of the gracious gift of life, so that nothing will hinder your prayers." 1 Peter 3:7
5. Lack of ­­persistence.
This may be the number one killer. Many of us simply give up too easily.
"Then Jesus told his disciples a parable to show them that they should always pray and not give up."
Luke 18:1
6. Spiritual warfare. Whether we want to admit it or not, spiritual warfare is a reality. "Then he continued, "Do not be afraid, Daniel. Since the first day that you set your mind to gain understanding and to humble yourself before your God, your words were heard, and I have come in response to them. But the prince of the Persian kingdom resisted me twenty-one days." Daniel 10:12-13
7. God's timing. We may be willing to settle for 'good enough' right now, while God is waiting for 'best' around the corner. Trust in his timing. "There is a time for everything,
 and a season for every activity under heaven." Ecclesiastes 3:1
8. Love. Sometimes, we ask for things that will hurt us in the long run, and the most gracious thing God could do is leave our prayers unanswered. Garth Brooks got it right when he sang his song, "Unanswered Prayers." "Every good and perfect gift is from above, coming down from the Father of the heavenly lights, who does not change like shifting shadows." James 1:17