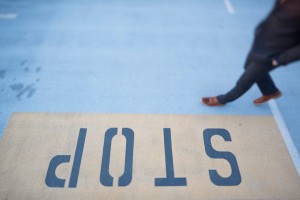 The most often repeated command in the Bible is in there for a reason: "fear not." If you're a Christian and if your level of anxiety is through the roof about this election, take a deep breath. If you've been burning up the social media airwaves with who everyone should be voting for (while demonizing the other side), stop it. If you see Tuesday as a potential apocalypse (depending on who wins), slow down and get a bigger perspective.
Why are we freaking out so much? We're acting as if the government is the one that can ultimately save us. And yes, future Supreme Court justices are important, but can a set of laws change the human heart? No. (If you need proof, ask Moses and the Israelites).
Christians are wringing their hands, aghast that we're even forced to choose between two candidates who don't share many of our core values. This might have surprised us, but I guarantee you this election didn't surprise God. We believe that God is sovereign. Look at God at work in the Old and New Testament. He did some of his most memorable work with a despot on the throne. God's will cannot be thwarted, no matter who is in power.
Be reminded that "our citizenship is in heaven. And we eagerly await a Savior from there, the Lord Jesus Christ" (Philippians 3:20). Any disillusionment with this world should point us to the world yet to come where Jesus will reign and sin will be no more.
Christian, God's got this. This election is unfolding exactly as he ordained it to happen. Though we might not be able to see the good in all this, trust that God is still in control. If you freak out, if you act like the world is ending, if you allow one election to destroy your confidence in God, then there wasn't much confidence there in the first place.
Take a deep breath. Center your mind on Jesus. Remind yourself of the goodness and power of Almighty God. And go out there and spread hope. Our world surely needs it.