Growing up church sanctuaries were hallowed, untouchable places. From the stained glass to the pews to the chandeliers, the furniture makeup was unchangeable. I could never quite find the Bible verse that said that the church sanctuary had to look like that, but I always assumed it was somewhere in the book of 2 Opinions. In contrast the meeting rooms for kids and youth were always spartan in comparison. Cinderblock walls, a few posters or bean bags if we were lucky. It was apparent quickly where ministries lined up on the organizational hierarchy. Those were the churches I grew up in. But that's not the church I'm a part of now.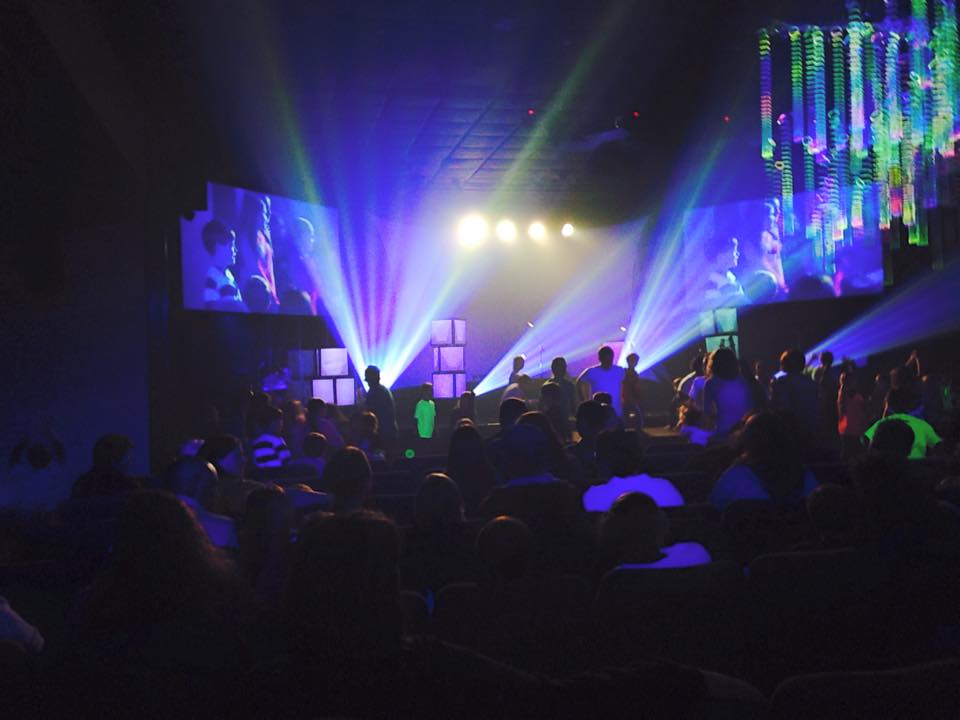 Over the past two weekends we've had two major outreach events, one for youth and one for children. The youth had a blacklight dodgeball tournament and the children had KidZone Live. In both instances an untold number of volunteers came together and contributed hundreds of hours to pull off an amazing event. In both instances we had more teenagers and more children than we've ever had before at our church.
The reason we were able to have these amazing events? Because we broke through the taboo of a sanctuary as an untouchable space and made it a functional environment. Every Sunday morning our Fellowship Center is a worship venue for The Gathering. But two Friday nights ago that large space was turned into blacklight dodgeball heaven, with 300 teenagers crammed in there to spend their Friday night. Every Sunday morning our Worship Center hosts two worship services, but last night it was transformed into a kids paradise as 300 kids and parents filled the room for KidZone Live.
In both instances the worship venues were filled with something you normally wouldn't see in a church sanctuary: dodgeballs and slinkies. Growing up this never would have happened. Children's and Youth ministries were important, but we couldn't touch the sanctuary. So why do it now?
Because Christianity is always one generation away from extinction. Because there's nothing more important than reaching the next generation for Christ. Because a church that fails to reach kids and teenagers is a church that actively digs its own grave
. That trumps traditional taboos about what's respectable in a church sanctuary. That's why we let our teenagers tear the place up with a bunch of dodgeballs. That's why I preached yesterday with hundreds of slinkies hanging down over my head from the ceiling. I did it for the kids. Reaching the next generation trumps my personal preferences. From my perspective, our 'sanctuaries' were more hallowed when filled with hundreds and hundreds of young people than when ordained with the finest stained glass and chandeliers. People are God's treasure. The rest is just furniture.