Yesterday we held the funeral service for Eddy Doyle. Here is the message I shared with the family and friends: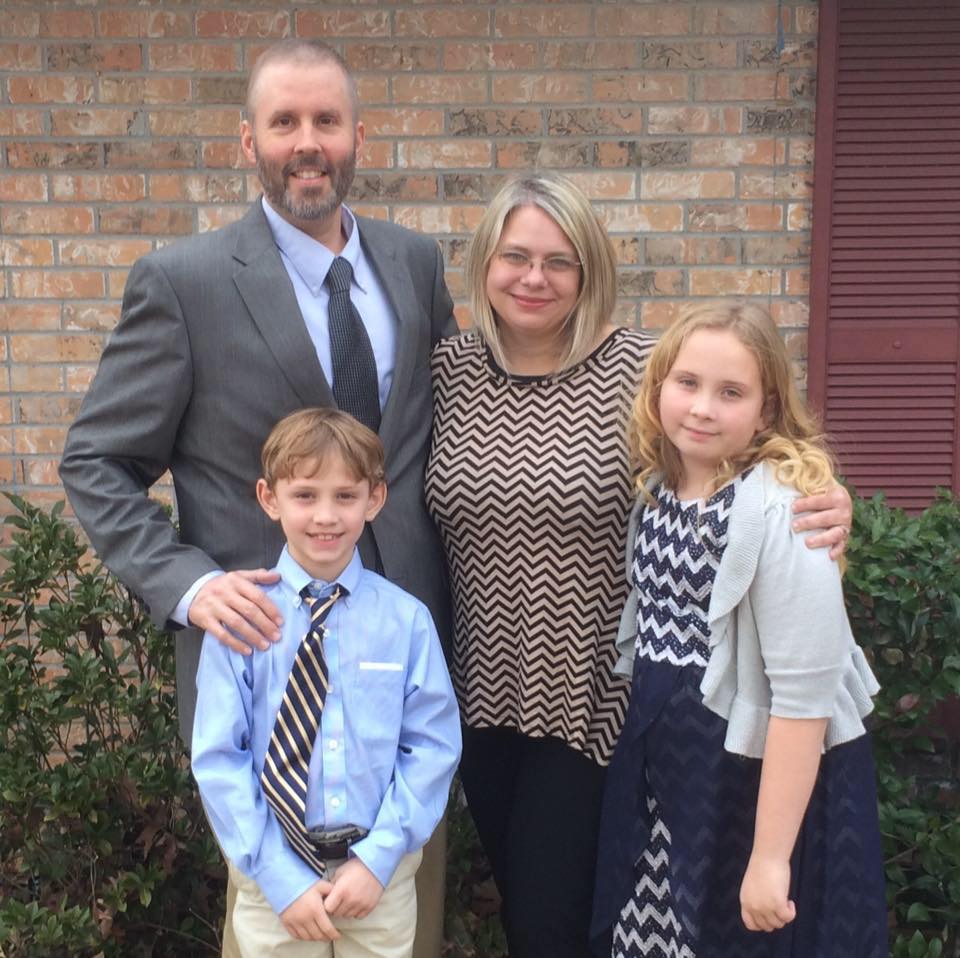 Today we're here to celebrate a beautiful life lived to the full and a legacy that will carry on with his family and friends long after we leave this place. Tracy and I started talking about this funeral the day before Eddy passed. Eddy had told Tracy just a few days prior, "I'm ready to go home, I'm just not ready to leave yet." He wanted to get his family into their new house. He wanted his brothers to come into town. He wanted a few more days with his kids.
We knew his time was coming, but we didn't know how short it would be. Eddy had fought a battle with cancer for a year and a half. I remember when he was first diagnosed. The initial prognosis was so grim even then, he had to make a decision then about whether or not he would even fight it. Eddy fought it. He fought it his way. He kept his chin up, kept a smile on his face. He'd take a round of chemo in Jackson and then play a round of golf afterwards, just because he could.
For a year and a half Eddy lived, he worked, he loved his family, he served at church every Sunday he was in town. You'd never know from the outside the battle he was fighting on the inside. If you ever have to die from cancer, you couldn't have asked for a better journey than Eddy's. He was healthy and active until the very last week. When he started to go downhill, he went downhill quick. No long drawn out saga. He went as quickly and as painlessly as you could expect. For that we are thankful.
This funeral today isn't so much for Eddy as it is for us. Our time of pain and grief is now. Eddy's time of pain and grief is over. Some of the bigger questions we're wrestling with today are: why? Why did Eddy have to die in his prime? Why did he have to get cancer? The truth is, we'll never know the full answer to that this side of heaven. Now that Eddy's there, he knows why, but here we're left wondering.
The Bible says in the book of Isaiah that God's ways are higher than our ways and his thoughts are higher than our thoughts. But here's what we can hold onto in the midst of this valley of grief: Pain is big, grief is big, death is big, but God is bigger.
We can ask our questions, but deep down I don't think we need the answers as much as we need to know that God is here. Grief is big. Death is big, but God is bigger. He's still on the throne, and he's here today in our midst. When you don't know what to hold onto, hold onto God. He's bigger than whatever pain you're walking through today, even the loss of Eddy.
When we encounter death we are forced to come face to face with our own mortality. For many of us, life is the moment, the future is always a day away and questions about death and the afterlife are beyond our horizon. But here, now, in this moment, we're forced to confront the bigger questions about life and death. What happens after death? Do we cease to be? Do we continue on in some form or is death simply the end? Is heaven real?
Here's what we believe the Bible teaches, and for those of us who believe in Jesus, it's an incredible hope to hold onto especially when dealing with the reality of death. The Bible teaches that everybody lives forever somewhere. Death is not the end, but merely a transition from one life to the next. That's why we use the phrase that Eddy passed. Death can seem so final, when it's really not. Eddy passed from one life into the next.
And if Eddy could come back right now and share with us the most important decision he ever made, it wouldn't be his career choice or what college to go to or even to marry Tracey. I believe Eddy would say the most important decision he ever made was to place his trust in Jesus for the forgiveness of his sins. Eddy placed his faith in Jesus. He trusted in him, and because of that now he's in heaven with Jesus.
In the Bible we only get glimpses of what heaven will be like. It's so beautiful and wonderful that human language can never fully capture it. But here's what we know: heaven is a place where there's no more pain, no more suffering, no more cancer.
We can grieve because Eddy's dead, but that's not completely true. Because of Eddy's faith in Jesus, who is the resurrection and the life, Eddy is more alive now then he's ever been. He's more alive than all of us right now. He's experiencing what true life in heaven feels like. So don't think of Eddy as dead and gone. He's with Jesus in heaven. He's very much alive, he's just not here. He's passed on from one life to the next.
The day he passed as I was sitting with Tracy I asked her, "What do you think is the first thing Eddy did in heaven?" Her answer was immediate: "He found his brother." Personally, I think Eddy is having the time of his life right now. He's having a family reunion. If there's a drum set up in heaven, he's already found it and had a jam session. If his house or his desk up in heaven needed organizing, he's already obsessively organized it. Don't remember Eddy as this earthly shell wrecked by cancer. His spirit is very much alive. He's just not here with us.
So for us left behind, perhaps the most important question is: what do we do? How should we respond to Eddy's life and passing?
First, I would say grieve for ourselves, but don't grieve for Eddy. It's normal and healthy to grieve the passing of someone as dearly loved to us as Eddy. But don't grieve for him. Eddy's fine. He's happy. He's in a better place. He's been completely cancer free for two days now, and he's got a million plus cancer free days coming his way. Eddy's good. Eddy's with Jesus. Grieve for ourselves, but don't grieve for Eddy. He's where he wants to be.
Secondly, we have an opportunity to honor Eddy by being family to Tracy and Tanner and Will. Tracey and I have talked several times throughout this process, and she's good. Her and Eddy came to peace with this a long time ago. They were at peace with what was going to happen. She is at peace with what's happened. She's good. But there is a void left by Eddy that we collectively can help fill in the weeks, months and years to come. If you truly want to honor Eddy's memory, don't just grieve now. Be family for Tracy and the kids in the months and years to come. That's the best way to honor Eddy.
Third, put your hope in Jesus. I know that not everyone here in this room is a Christ follower. Maybe you've never been a church person. Maybe you went to church as a kid but had a bad experience and haven't been back since. The reason we here today can be so hopeful, the reason that Tracy and the rest of Eddy's family can have such peace in the midst of this grief, is because the power of Jesus is real.
Tracey told me that she wasn't raised in church. Much of the whole Jesus thing has been new to her. But she told me, "It's real. It's all real." She's felt the peace and presence of Jesus throughout this journey in ways that are undeniable.
The reason Eddy was at peace through this fight with cancer was because he placed his trust in Jesus. The reason Tracey can be at peace through this is because she's placed her trust in Jesus. If that's something you've never done, you can have the same peace that Eddy had. It's as simple as placing your trust in Jesus and his sacrifice for you on the cross to secure a place for you in heaven with him, and now with Eddy.
The last thing we should do is look forward to the day we'll see Eddy again. If we believe in Jesus, then Eddy's waiting for us. He'll greet us with a big hug, he'll say, "What took you so long." He'll show off his heavenly resurrected drum skills. I know heaven is perfect but he'll find a way to obsessively organize something and make it more perfect.
And then we'll be together forever. Until then, we don't say 'goodbye' to Eddy. We simply say, "See you later."