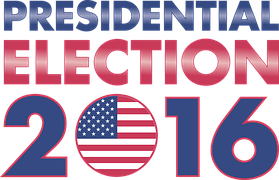 I'm a conservative evangelical. For the past several decades, one if not both presidential candidates have pandered to our base, (sometimes effectively) selling themselves as true believers to garner our vote. In the 2016 presidential cycle, neither Hillary Clinton or Donald Trump could be described as anything close to a conservative evangelical. For the first time in a long time, our voting bloc is left without a seat at the table.
Obviously I would love to have a conservative evangelical to vote for, but that's not going to happen this year. Ever the optimist, I want to look for ways that this could work to our advantage. Let's make some lemonade out of the lemons we've been handed. Here are the three greatest benefits I see of not having a conservative evangelical in this year's presidential election:
1). At least we won't be lied to. Politicians lie, and the reason politicians get elected is because they can be very convincing. Over the years it seems like the conservative evangelical world has been reduced to a stereotyped voting bloc to be pandered to and then forgotten once the election is over. Every election, someone comes along, saying the right buzzwords, stirring us to action, and then producing very little results in real life. At least for this presidential cycle, we (hopefully) won't be lied to. We'll at least be ignored from the very beginning and know where we stand.
2). We have a tremendous opportunity to divorce religion from politics. The kingdom we serve is not a kingdom on this earth. America is not the same as Israel in the Old Testament. We are not God's chosen nation. This is not a theocracy. Ever since the Moral Majority spawned in the 1980s, conservative evangelicals have been focused on legislating morality on the rest of the nation. The net result from all that has been an incredible souring of evangelicals in the minds of the rest of the nation. For some reason, they don't appreciate our attempt to legislate morality based off a belief system that they do not believe in. Perhaps this is our opportunity to remember that our greatest good will happen through the local church, not the halls of Congress or the White House. You can legislate all you want, but the greatest opportunity to serve families, restore marriages, father the fatherless, help the poor and save souls comes through the local church, not through the political process. We would do well to remember that.
3). It's a needed reminder this world is not our home. We're going to a better place. We're merely passing through. If we get too attached to this world, we'll begin to lose our effectiveness for the next. As great as America is and as patriotic as I am, my true citizenship is in heaven. We are called to be focused on things above, not this world. At the end of the day, we shouldn't be that disheartened that we don't have a conservative evangelical in this presidential cycle. Our greatest hope has never been in politics. It's always been in Jesus. Our greatest opportunity to serve is not in the Kingdom of America but the Kingdom of God. Heaven is our home. When we get disillusioned with this world, it makes the prospects of heaven that much sweeter.
QUESTION: What other benefits are there of not having a conservative evangelical in this year's presidential election?