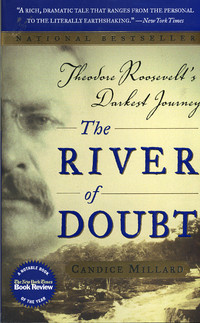 Theodore Roosevelt has always been one of the most fascinating characters for me in American history. The River of Doubt is perhaps the fourth or fifth book I've read on him. Edmund Morris' books, The Rise of Theodore Roosevelt and Theodore Rex are especially good reads. Candice Millard succinctly captures the essence of Roosevelt that makes him such a larger-than-life enigma:
"In a lifetime of remarkable achievement, Roosevelt had shaped his own character—and that of his country—through sheer force of will, relentlessly choosing action over inaction, and championing what he famously termed 'the strenuous life.' From his earliest childhood, that energetic credo had served as his compass and salvation, propelling him to the forefront of public life, and lifting him above a succession of personal tragedies and disappointments" (2).
This book chronicles an adventure that eventually cost him his life: exploring and navigating an unknown river in the Amazon basin: the River of Doubt. To get a sense of that era, one has to know that the turn of the 20th century was captivated with adventurers and explorers reaching the furthest limits of the planets. There were races to see who would reach the North Pole first, then the South Pole. The Wright brothers had just conquered the frontier of manned-flight. All around, the edges of the earth were closing in, and anyone wanting to make a name for himself was quickly running out of virgin lands to explore.
As President, Roosevelt served out the term of his assassinated president William McKinley, and then won in his own right as a Republican in 1904. Fulfilling a campaign promise, he stepped down in 1908, allowing his hand-picked successor, William Taft, to run and win. Yet he could not live an idle life. Roosevelt, a man accustomed to power and the spotlight, chose to go on a world speaking tour and a year-long African safari after his presidential term was over.  Yet four years later, he was determined to make a comeback. In 1912, he ran against his own successor as a third-party candidate, and lost convincingly. For an ex-President who had never known defeat, this one came as a stinging blow.  To a man who constantly needed a new challenge to give him purpose, South America came calling.
Invited to give a series of lectures in South America, Roosevelt accepted. As his adventure began to take shape, Roosevelt decided not just to speak, but to have a 'grand adventure' as well. The Amazon River was one of the few unknown places that remained on the planet. After his speaking tour, Roosevelt led a party to map out and explore an unknown tributary to the Amazon River, the River of Doubt (named because it's existence was in doubt before this time).
Traveling with his son Kermit, several American naturalists and adventurers, and a whole host of Brazilian guides, they made the several month trek over land to the headwaters of the River of Doubt, which had only been discovered a few years prior. The length, direction, and even the destination of the river was completely unknown.
What Roosevelt envisioned as a 'grand adventure' ended up being a fight for survival from the Amazon forest itself, deadly creatures, disease, and even Amazon Indian tribes who had not had contact with the outside world since the Stone Age. Expertly led by a Brazilian army officer/explorer named Rondon, the group successfully mapped and navigated the thousand mile long River of Doubt, a feat unheard of in that day. They paid for it dearly. Several of the expedition members died, all were laid waste by disease, and Roosevelt himself became so sick with disease and infection (losing 55 pounds, a quarter of his body weight) in the two and a half month descent, that he would eventually lose his life early several years later due to complications from his Brazilian adventure. But as an avid adventurer, Roosevelt was able to say that he successfully added a thousand mile river (as long as any major river in America or Europe) to the world map for the first time.
Millard's writing style is good, interlacing details from the adventurer's journals with scientific facts and realities about the jungle itself. The end result is a harrowing narrative of a group of men that risked everything to do what had never been done in civilization before: descend the River of Doubt.
LESSONS LEARNED
1. Roosevelt's work ethic, his embrace of difficult challenges, and his unflinching resolve in the face of adversity continue to inspire. I wish I could have half of the courage and resolve that Roosevelt had. If we put his time, energy, and ferocious work ethic into advancing God's kingdom, who knows what miracles could take place? Who knows how many lives could be changed?
2. Roosevelt gave his life to a cause he believed worth dying for. This adventure ended up costing him his life, yet he was willing to make the ultimate sacrifice for a cause he believed in.  Why should I approach my cause (the cause of Christ) any differently?
3. Roosevelt dripped with vision. He believed in bigger ideals, and inspired his fellow man to dream more, achieve more, be more. I pray that I can utilize the vision of a life filled with Christ to inspire others to dream more, to achieve more, and to be more in Christ.