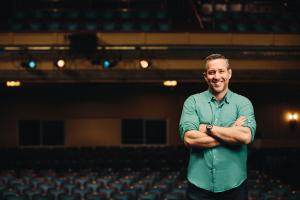 The new president of the Southern Baptist Convention J.D. Greear is less than two weeks into his new role and he has already begun to receive friendly fire from the conservative culture warriors at the American Family Association. The charge comes from their post Southern Baptists May Be in Trouble With J.D. Greear, stating Greear's election "may prove to be a fateful, even fatal, choice for the SBC. The reason is simple: Greear is soft and simplistic on the number one cultural and spiritual issue of our time – homosexuality."
Hold on for a second please, just give me a moment to try and absorb that assertion for a moment. Call me archaic, but I've always held to the traditional view that the number one spiritual issue of our time is lostness. People are dying and going to Hell, and we have the message of hope through Jesus. God so loved the world that he sent Jesus to die so that we don't have to, and our greatest mission has been and always will be to do everything we can to make disciples of all nations. Last time I checked we don't get any extra credit if a person is a good heterosexual but they still go to Hell. So, if the leading spiritual issue of our day is lostness, then the number one cultural issue of our day would be our increasing inability as the American church to impact lostness, and viewpoints like the one trumpeted by the American Family Association is part of the problem. The AFA is upset because J.D. Greear is more concerned about getting people into heaven then pushing back and defeating the "homosexual agenda." And for that reason, I thank God that J.D. Greear is the new president of the Southern Baptist Convention.
Here is the excerpt that the AFA pulled from a recent message given by Greear on the topic of homosexuality. Here's where they accuse him of going soft. Tell me what you think (emphasis is the AFA's):
We have to love our gay neighbor more than we love our position on sexual morality, which means that our relationship with them must not be contingent upon their agreeing with us about sexuality. It means that when they don't agree with us we still don't push them away.
The posture of many Christians in our churches is more characterized by anger than by compassion, by judgment rather than by friendship. I am NOT saying that we would ever compromise our position or fail to state it, just that even when they disagree with it, we do not cut them off – we draw them close. We say yes, this issue is important. I cannot compromise, but I love you more than I love being right. And so even if you don't see things my way, I'm going to keep bringing you close, and I'm going to remain committed to you.
In the cross of Jesus Christ, he shows us the right way to relate to the gay and the lesbian community – clarity about God's righteousness, compassion that would give up its own life to draw them close.
Neither side is opting for a compromising of the traditional biblical view on sexuality, but Greear chooses to wrap biblical truth with friendship and compassion while the AFA is seemingly endorsing anger and judgment. In this post, the AFA looks more like the religious leaders in Jesus' day who would judge Jesus from a distance for having the audacity to interact with people they had already pre-determined were unworthy of love or compassion.
I for one hope that Greear's message and example of compassion without compromise shines brighter and brighter as a way forward to reorienting the church back to its number one cultural and spiritual issue of our day: emptying Hell and filling Heaven to capacity.