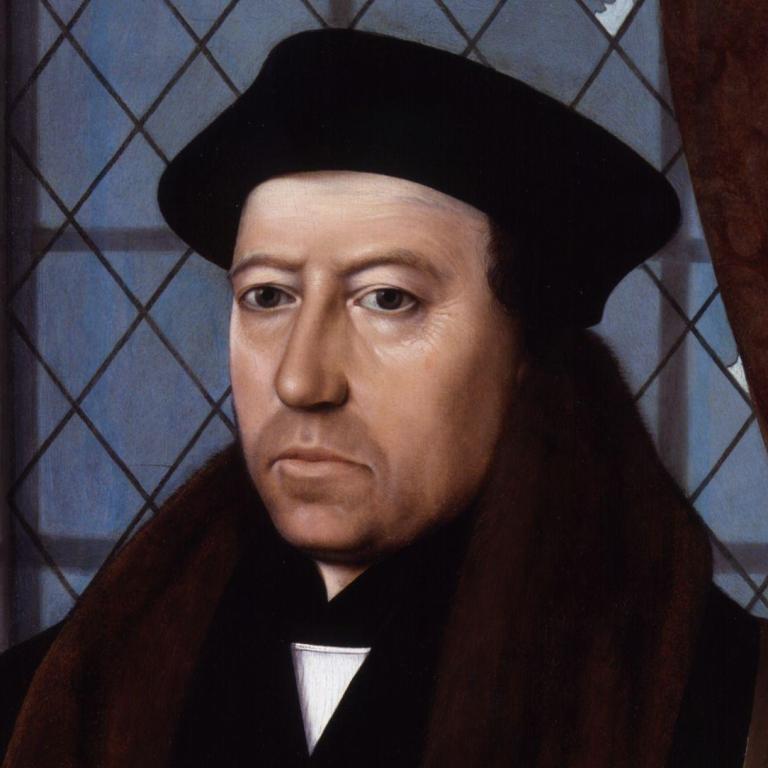 What was behind the Anglican Reformation? What was it that transformed that nation's religion and politics in the 14th through the 16th centuries?
Cranmer scholar Ashley Null says it was "the power of unconditional love." This is the title of his chapter in Reformation Anglicanism: A Vision for Today's Global Communion (Crossway, 2017).
Null writes that the Anglican reformation proceeded in a six-act drama.
The first was a pre-Reformation scriptural meditation reform program. The "curious self-appointed hermit" Richard Rolle (d. 1349) believed Scripture is the divine channel for spiritual power and that the name of Jesus was the sum of the gospel message. His writings circulated among ordinary people who pursued intimacy with God by prayer and meditation. Walter Hilton (c. 1343-1396) wrote The Scale of Perfection, which promised a transformation in desire by meditation on scripture. Oxford philosopher John Wycliffe (d. 1384) rejected the idea of the church as mediator between men and God and advocated Scripture as the sole authority for all knowledge. Erasmus (d. 1536) promoted Scripture as the power that would move people to love God and do good.
The second act in this drama, according to Null, was an underground evangelical movement in the 1520s and 1530s. Luther's protégé Philip Melanchthon and Cambridge lecturer Thomas Bilney taught that self-love cripples human reason and willpower, and that only "better affections" could set one free. The experience of forgiveness would come from understanding justification by faith, which would transform the emotions and lead to the "born-again" experience. The Bible translator William Tyndale taught the same, that justification by faith would bring the experience of "affective relationship with God" which is the "authentic hallmark of true Christianity."
Third, King Henry VIII led the Church to break from Rome but did not fully embrace Protestant theology.
Fourth, Thomas Cranmer (1489-1556) guided the English church to full Protestantism under the boy-king Edward VI (1547-1553). Cranmer had studied Luther's writings when he was in Germany, and discovered from them that "only the unconditional love of God made known in justification by faith saved sinners." According to Null, he rejected "the whole medieval understanding of salvation" but found support for this in the writings of Augustine.
The fifth act was Catholic restoration to England under Queen Mary (1553-1558), who burned Cranmer and other reformers at the stake.
Finally, there was the restoration of Cranmer's Protestant church under Elizabeth (1558-1603). Null notes that in the new Book of Common Prayer issued under Elizabeth (1559) words indicating a real presence of the Body and Blood of Jesus in Holy Communion, which had been removed from Cranmer's second BCP (1552), were reinstated. But Null also notes that the Elizabethan Prayer Book was still "stridently anti-Roman."
Null observes that Richard Hooker (1554-1600) in his Laws of Ecclesiastical Polity defended the Elizabethan settlement against Puritan insistence on Presbyterian polity and preaching-centered worship. According to Null, Hooker regarded "church order and ceremonies" (polity and worship) as "nonessentials . . . to be determined by national authorities, as guided in specifics by any relevant biblical passages, human wisdom, and church tradition."
Null's chapter is an elegant and insightful summary of a complex history. I am not as sure as he is, however, that Cranmer rejected "the whole medieval understanding of salvation." Cranmer might have thought he was rejecting the whole medieval synthesis, but was that synthesis identical to what Cranmer was rejecting? After all, medieval theology can be regarded as an extended commentary on Augustine, from whom Cranmer learned. And while late medieval theology did teach heretical semi-Pelagianism, more and more Protestant scholars (like the Anglican Alister McGrath) are recognizing that Thomas Aquinas and Martin Luther were not as far apart on justification as has been alleged.
And while it has been oft-observed that for Hooker polity and precise liturgical practices could be varied according to national circumstances, it should also be noted that Hooker insisted that bishops were instituted by Jesus Christ, and that the Eucharist was far more than a memorial of what happened centuries before.
In the Laws VII.5.8, Hooker said that episcopacy was invented by the apostles by the direction of the Holy Spirit: "The authors of episcopal regiment [were] . . . the very blessed apostles themselves, directed therein by the special motion of the Holy Ghost." Just before these quotes Hooker writes that episcopacy is "that which God himself ordained by his apostles, and the whole Church of Christ approveth and judgeth most convenient."
On the Eucharist, Hooker argued it is not a "bare resemblance or memorial of things absent." It is "real participation of Christ and of life in his body and blood by means of this sacrament" (Laws, V.57.5; V.67.2). For Hooker faith was required to participate in Christ by the sacrament, and it was not important to know whether the substance of the bread and wine were altered. But no matter, the important thing was that "or participation of Christ in this sacrament dependeth on the co-operation of his omnipotent power which maketh it his body and blood to us" (Laws, V.67.6). The consecrated elements are "made such instruments as mystical yet truly, invisibly yet really work our communion or fellowship with the person of Jesus Christ as well in that he is man as God, our participation also in the fruit, grace and efficacy of his body and blood" (Laws V.67.11). In other words, for Hooker the Eucharist is not only a remembrance but also the real presence of the Body and Blood of Jesus Christ.
Aside from these quibbles, Null's chapter is a marvelous introduction to the spiritual and theological history of the Anglican reformation. It provides a plausible answer to the question of what kept driving this tangled history. Null's answer? The affective power of unconditional love.