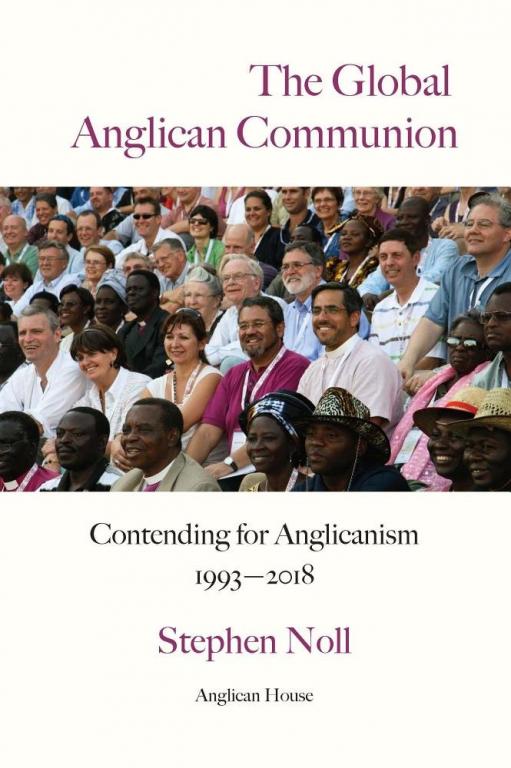 I am often asked, "What is going on with you Anglicans?"
I cannot think of a better book to explain the current sea changes in Anglicanism than Stephen Noll's new The Global Anglican Communion: Contending for Anglicanism 1993-2018.
Noll is one of the elder statesmen of the new orthodox global Anglicanism. He is Professor Emeritus at Trinity School for Ministry in Ambridge, PA, and served for ten years as Vice Chancellor of Uganda Christian University. For decades he has been writing, teaching and politicking (in the good sense) for a biblical Anglican identity faithful to the Great Tradition.
Noll says he is a "watchman" on the walls for Anglicanism, "contending" for its orthodox identity (1). In this new book, which introduces his essays over the last fifteen years, we are given an insider's perspective on the revolution in Christianity's third largest communion.
Noll calls himself a watchman, but I would say he has been a prophet. In this book he declares that the seismic changes rocking Anglicanism have been "the providential judgment of God" (2). God has judged the "New York-London establishment" and found it wanting (226). Two modern conferences of bishops—Lambeth 1998 and GAFCON 2008—have broken the "hammer-lock with which the Anglo-American bureaucracy had controlled Communion affairs since the 1960s" (125).
As a result, the center of gravity for the Communion has moved to the Global South. The archbishops who lead the largest Anglican provinces in the world are in Africa. They no longer define Anglican identity by communion with the Archbishop of Canterbury (3). At the 2008 Global Anglican Future Conference [GAFCON] in Jerusalem Noll heard these bishops say repeatedly, "We are not leaving [the Anglican Communion]. We are the Anglican Communion." (3)
Noll speaks of judgment because the Anglican churches in Britain and America that have embraced new understandings of marriage are declining in numbers while the orthodox Anglican churches are booming in the Global South.
The book centers on these two recent historical conferences. The first was Lambeth 2008, where a surprising super-majority of bishops (526-70) voted for Resolution I.10, which stated that same-sex practice is "incompatible with Scripture" and "cannot be advised." Anglican conservatives were elated. Some wondered if this would move the whole Communion back toward its orthodox beginnings. After all, as recently as 1920 Lambeth bishops agreed that "to live a pure and chaste life before and after marriage is, for both sexes, the unchangeable Christian standard" (275).
But this was to be a short-lived victory. "George Carey [the Archbishop of Canterbury at the time] began to undermine the authority of Lambeth I.10 immediately after it was passed. Rowan Williams [Carey's successor] stated on many occasions that the resolution stated the current position of the church but certainly not unchangeable" (275-76).
As recently as 2016, the Secretary General of the Archbishop's Council, who was speaking for Justin Welby (the current Archbishop of Canterbury), declared that Resolution I.10 "is not legally binding on all provinces of the Communion" (278).
The second conference was GAFCON 2008. This conference was purposely designed by orthodox African bishops as an alternative to Lambeth 2008, after they had warned the Archbishop of Canterbury that they would not attend Lambeth 2008 if "the renegade American bishops [who had consecrated a practicing homosexual as bishop in 2003] were invited" (186). When Rowan Williams went ahead and invited the American bishops, GAFCON was organized. Its Jerusalem Declaration has become a theological and ecclesiological manifesto for orthodox Anglicans around the world ever since.
Among other things, the Declaration calls for a new (but historically old) biblical hermeneutic: "The Bible is to be translated, read, preached, taught and obeyed in its plain and canonical sense, respectful of the church's historic and consensual reading" (188).
It stipulated further hermeneutical and theological standards for understanding God, gospel, and church: the "Four Ecumenical Councils," the "Thirty-Nine Articles," the "1662 Book of Common Prayer as a true and authoritative standard of worship and prayer," and "gifted bishops, priests and deacons in historic succession." (188).
There is far more in Noll's collection of essays for anyone wanting to know the temperature of this body called the Anglican Communion. It is a rather high temperature right now, especially as we are about to see a new GAFCON conference in Jerusalem next month and a General Assembly of The Episcopal Church in July.
Stay tuned, and read Noll's book as a guide to this unfolding drama.