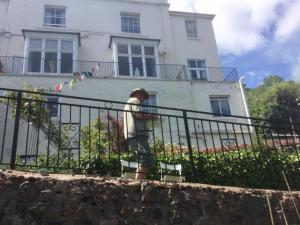 How is it to run a Pureland Buddhist temple in a small town?
Our week begins on Tuesday. After feeding Roshi, Tsuki and Fatty (the three temple cats) and Peter and Poppet (the two temple bunnies – Peter is blind, Poppet has three legs) I climb two flights of stairs to the shrine room for half an hour of practice. Adam has already lit the candles and rings our big gong five minutes before we begin. There are six people living in the temple alongside myself and my husband Kaspa, and they come occasionally or regularly to this morning practice. We sit silently for twenty minutes and chant for ten – repeating the name of Amida Buddha. It's always a good way to start the day, regardless of how crazy-monkey-like my mind is.
I try to set my mornings aside for writing and project work. At the moment I'm working on a novel, and co-writing a course with Kaspa to offer people a 30 day taster our main practice as Pureland Buddhists, nembutsu. I see my psychotherapy clients in the afternoon and evenings, and I also schedule regular 1:1s with my mentees and with other members of the congregation. Having meetings during the week suits us well – most importantly a meeting for me and Kaspa so we can check in with each other and make sure we're not feeling crazy or overwhelmed. We also have a meeting for all the local Priests and trainees, fund raising meetings, and my least favourite session to work on the temple accounts.
At the heart of what we do here is the Pureland Buddhist services we offer three times a week. These services are Japanese in style (i.e. there's lots of bowing) and they are usually run by me or Kaspa – we take alternate weeks. We wear long red and yellow robes and we are assisted by various bellmasters who get everyone up for walking meditation and make sure we don't walk round and round the Buddha forever. The services also include sitting meditation, a short Dharma talk from the celebrant, chanting, prostrations and liturgy. They are complicated, despite the simplicity of our core practice (just say 'Namo Amida Bu'), but over time they begin to feel like a beloved poem or symphony.
The temple has been here for three years now, and many of our congregation have been with us for this long too. Their deepening sense of refuge enriches the community and helps us to put down strong roots. Different people come to different services – some attend a couple of times every week, some less often. We tend to have between four and a dozen people to each service, expect when we were both ill and Emma covered for us. No-one else turned up that morning and so she was the only one in the shrine room, leading herself in the whole service (although she left out the Dharma talk!).
We occupy all sorts of roles as temple managers – play the roles of landlord, volunteer manager, trainer, painter-decorator, fundraiser, Priest, student, gardener, therapist, colleague, friend and more. A lot of our ministry work here involves reflecting closely on our multiple relationships with our colleagues and congregation, alongside juggling all the other tasks that compete for our attention. I am grateful to Kaspa for his support in this – we are a real team – sometimes he feels overwhelmed by something practical or by a difficult dynamic with someone, and sometimes I do. 'Holding' all these people would be an impossible job for one person, or rather it would be difficult to do it without becoming burnt out.
On a Friday night the templemates here eat together. People take turns to cook, and the food the temple offers is always vegan. I am pleased that people choose to attend whenever they can, and it is a good chance for us to all catch up with each other. We sometimes invite guests – members of the congregation who've helped us in the garden, our trainee Priests, or friends of the temple. Although we can have philosophical or theological conversations, we tend to be silly instead, tell bad jokes, and laugh a lot. I usually eat too much. After the meal we either watch a film or play games in the temple living room.
Our week ends on Monday with our 'Sabbath day'. One of the characteristics of the work that we do here is that it's very 'leaky' – the doorbell might go at 10pm on a weeknight, or we bump into a volunteer in the garden who begins to tell us about their difficult week. We realised that it was crucial that we protected some time so we could be 'off-duty', and Monday is this day – we ask volunteers not to come on Mondays, and we never book any appointments in our diaries. This day of rest has kept us sane. It allows us space to contemplate, and time to replenish ourselves physically, emotionally and spiritually.
I'm so privileged to be running this temple with Kaspa. Our weeks are full, and full of variety. I still look forward to every single Buddhist service, and I am nourished by watching people's faith deepen over time. We have a beautiful building and garden to live in, an awesome view, and we are surrounded by warm and supportive people. It's not easy, and we have bad days – who doesn't? – but I wouldn't swap my life for anyone else's. Maybe by reading this blog you can feel like you're a member of our community too. Maybe you'll even come and visit someday. You'd be very welcome. Namo Amida Bu!  
*
Image: author's own