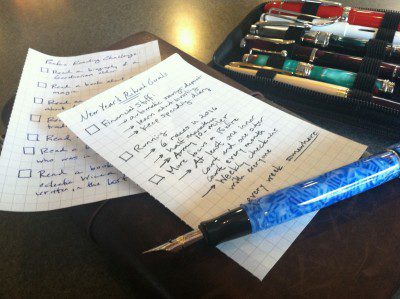 I'm not particularly interested in New Year's per se. January occurs in the middle of the school year, in the middle of winter, and otherwise in the middle. It feels neither like an ending, nor a beginning. It's still cold(ish), still (very) wet, and I'm still going back to work to pick up the same old projects. In many ways, it's just more of the same. I've also never been much for parties or arbitrarily staying up late, so my festivities usually consist of me drinking champagne by myself while watching movies from my couch. Riveting.
But I do love opportunities for reinvention.*
The feeling that we can completely start over doesn't come along all that often, and New Year's Eve is a big one for many. I also love planning, organizing, and goal-setting. Whether or not I actually accomplish anything, it makes me feel like I'm participating in my own life.
I suppose what I do for the new year is just as much about making "resolutions" as anything, but I try to be pretty detailed, which helps me to be more reasonable in what I'm setting out to do (*cue flashback to college gym classes and SMART goals*). I also always set multiple goals, for different spheres of my life. In doing so, I can count on making progress in multiple places, rather than setting myself up to fail at one big thing. As long as there's progress, I count that as success at the end of the year.
Honestly, I can't remember most of the goals I set for last year, beyond running a 10k (check) and writing more (check). That probably tells you something about how seriously I take all of this in the long term.
This year, I've made a point to be more careful about recording things (like here, in public, on the Internet, so I can be held accountable):
Primarily, my goals are financial. The subject of money is touchy in "polite company" of many kinds, but Pagans especially, in my experience, tend to have hang-ups. If Helen Berger's Pagan Census is any indication, we're actually not collectively poor to the extent we often describe ourselves, particularly compared to other religious groups (we tend to be comparatively well-educated, too). But we do tend toward attitudes that "real" spiritual people ("real" teachers, "real" psychics, "real" community leaders, "real" artists) eschew money. Just look at all the controversy that crops up whenever the subject of payment (for workshops, magic, training, teaching, writing, art, etc.) arises.
But I don't think that way. Money is important to me, because it gives me the freedom to do what I want to do, and I see no point in pretending that that isn't true. I need money, and I want as much of it as I can reasonably get, without compromising my personal moral code.
I've got the basics under control, but I want to learn about investing and saving for retirement (if that's even a thing in fifty years). By the end of the year, I'll be working full-time as a school teacher. I've never had a job that had a salary (however shitty), offered benefits (however shitty), or had any kind of career stability (however theoretical). I want to take full advantage of that at every turn. I'm also committing to keeping a spending journal. So far, it's actually been sort of fun (and it turns out there are a lot of beginner-friendly, free resources available online). It makes me feel like I'm less at the mercy of outside forces, and instead doing the best I can with what I have.
Second, fitness stuff. I don't make weight-related goals, but I do make fitness ones. This year, I'm going to run my first half marathon. If I can get a bib before they're gone, I also want to run the
Army Ten-Miler
.
In Craft life, I want to maintain a better balance between inner and outer courts. I'm new to having to juggle both, and it's way harder than just running one or the other (unless I'm missing something significant that someone want to fill me in on). This will mean scheduling things farther ahead of time. There are also some new projects and strategies I want to introduce, particularly with regard to how we communicate outside of circle. I'm pretty excited about coven stuff, generally. I think this will be a big year.
I also instituted the "Foxfire Reading Challenge" (inspired by Corvus, who is doing the "Read Harder Challenge 2016") for both OC and IC. It's not a reading list with set titles, but ten categories that everyone can interpret for themselves. Everyone will end up choosing different books (more or less), and the end result is that we'll all be better-read and able to share a larger variety of material. It's going to be a lot of fun, and I know everyone will get something out of it. I'm even going to come up with a way to reward "winners" at the end of the year.
Finally, I want to be a better blogger. That's a weird thing to say, given that I started blogging to just ramble at the Internet and hopefully make some friends. But blogging as a genre is increasingly about being informative, being insightful, or being controversial (it seems). I'm not going to stress over being any more informative, insightful, or controversial at this point. I'm not sure I could really manage any of that, especially given that hardly anyone (maybe Bristol Palin) is actually getting any money to do this. But I can post more frequently. I can be less concerned about what people think of me. I can stop agonizing over every sentence and every word choice, so concerned about offending someone somewhere I don't even know. And all of that will mean more content, and probably a bigger variety of content. That's what "better" means to me at this point.
I could have made any of these goals at any point, but it's sort of fun getting wrapped up in that collective effervescence of the New Year.  Foxfire always marks the New Year with ritual, and it's one of my favorites.  Maybe I'm more of a New Year's person than I think I am.
So there you have it, dear reader.  What are your own plans?  What do you want to change or accomplish?
*Like that first day of 9th grade at a new school, when I decided that I was going to dress in my best Hot Topic/Old Navy goth-wear (you can imagine what that looked like), wear lots of make-up, and be silently badass in order to avoid four more years of the bullying I'd already been dealing with for the past decade for being fat and weird. This was a poor strategy, as none of the cool goth kids shopped anywhere beyond M St. in Georgetown, and I was nothing that could at any point have been mistaken for badass.
**As an example, one item is "Read a book by someone in the original Golden Dawn," which allows for any number of choices.