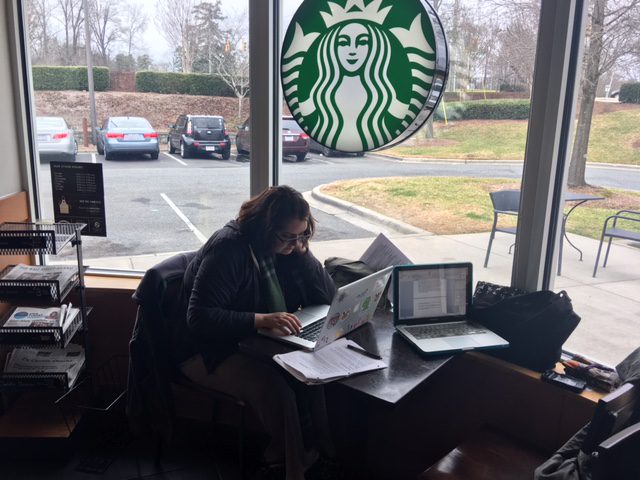 "Hey, did you know that there aren't any active BTW covens in North Carolina?" Corvus looks up from her phone, laughing.
"Are you reading seeker inquiries on Amber & Jet again?"
"Just going through my old e-mails. I can't help it." More laughing.
It is pretty funny, though. I don't spend much time on any e-mail lists anymore, but every now and then I'll get a message from a friend, letting me know that they've found someone asking around for covens in North Carolina on some list or forum somewhere. Then I'll get a screenshot. Usually, it looks like this:
"I'm looking for Wiccans in North Carolina and I can't find anything. Help!"
"Wow, sorry. Well, you know, it is the South."
And then there will be commiserating about what a wasteland we live in.
Guys. Guys.
I'm not sure we're living in the same state, because clearly people aren't seeing the same things I am. Maybe they just don't have a basis for comparison (I've lived in other states, and traveled across the country, checking out Pagan communities along the way, so I think I've probably seen a lot more variety than most). Let me tell you something: North Carolina pagans are lucky. We are goddamned blessed compared to a lot of places. Let me elaborate:
There are three Patheos bloggers writing from North Carolina (and maybe more…I don't actually get to read everything that gets posted here). Raleigh has one of the biggest Pagan Pride Day events in the United States. The Piedmont has an event, too, that grows every year. We've hosted Selena Fox, Wendy Rule, Raven and Stephanie Grimassi, and more. There are active BTW people in every major city I can name, as well as some of the tiny towns I can barely spell. Huntersville (i.e. TV Small Town America) has—and I'm not exaggerating here—the best witchcraft supply shop I've ever seen anywhere. There are also shops in Asheville, Raleigh, Greensboro, Concord, Greenville, Fayetteville (fucking Fayetteville, guys), and Charlotte. Some of these towns have multiple shops. And these are just the ones I've personally been to. A quick Internet search turns up more in Wilmington, Durham, and a bunch of tiny towns I've never heard of. Until recently, Charlotte had an open circle that routinely hosted more than fifty people at every sabbat. That's a goldmine of networking opportunity. More than 500 followed online. This group died, by the way, because no one wanted to help when the group became too large for the one organizer to handle. Yeah. There were plenty of people, they just didn't care enough. Further, there are more than 300 individual adult listings on North Carolina's Witchvox page—just barely trailing behind New York. Yeah, we're a bigger sate, but we also have half the population. In terms of percentages, you're more likely to meet Pagans here than in New York, Massachusetts, and California. And this is just me using my humanities degree to half-ass math on Witchvox, which most Pagans don't even seem to use anymore (although plenty of us do…don't assume those listings are dead just because they're old!). Things like the Pagan Census indicate much higher numbers, depending on how we want to define "Pagan" and whatnot.
I get inquiries through Witchvox all the time. The other covenleaders I'm friends with turn more people away than they take on. I'm up to my armpits in Pagans.
I'm not saying we're not an overly conservative, ass-backwards state that frequently votes wrong. Yeah, some things are fucked up. I work for the public school system. Trust me—I know. As for the South as a whole, we've got some serious problems that I am not trying to overshadow. Racism. Gender inequality. Oppression and violence based on sexuality and gender identity. Poverty. We are home to some of the true horrors in this country.
But one thing we have going for us: we have always been one of the most religiously diverse places in the country. We win at being religiously weird. Since the inception of this country, the South has been full of spiritually creative people forging their own paths, gods a'blazing. This place is magical AF. That doesn't change just because the evangelicals are louder than the rest of us.
Too many of us buy into this nonsense about the "Bible Belt" and then don't even bother looking because we've already defeated ourselves. We decide that we're alone and we curl up without even running a decent Internet search. When we do that, nothing changes. I realize that some of us are luckier than others, and I don't want to belittle the struggles of others. But it's a mistake to throw the whole region under the bus.
There are witches here working for change. There are Pagans making themselves heard and building havens for newcomers. There is opportunity here. There are resources here. There are safe places. There is community. If you're looking, we are here.