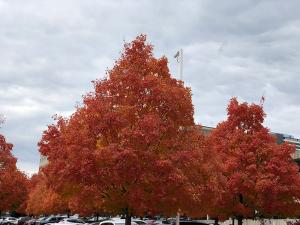 Finding Hope in Challenging Times
This past week has been a challenging one.
Sitting in my Tel-Aviv home, recovering from a second round of Covid, I listened as the voices of equality, peace and unity were being quieted.
I had moments of grief, sadness and frustration.
Some were harder than others.
I believe it is my continuous close relationship with hope that sustains me.
Hope is a necessity; we mustn't stand in her way.
She doesn't cure an illness nor a worldly disaster.
Yet she can make a moment a good one.
Hope can lift our soul so we can step into the next moment that awaits us.
With a renewed sense of inspiration and faith.
Hope is born every morning all over again.
May the winds of hope continue to guide us.
The unexpected warmth of a November morning let me know.
I could sense the presence of hope.
Autumn colors, with the spirit of spring,
filled my newly open windows.
Inviting me to take a swim in its invigorating waters.
I could sense the presence of hope.
Offering to flow through my heart space.
Caressing my spirit with the beauty of simplicity.
I could sense the presence of hope.
In my now, I rest in the embracing arms of hope.
She guides me, as she clears the path of fear and grants me the triumph of a good moment.
I could sense the presence of hope.
Morning Inspiration started off as a message of joy to a dear friend at a time of great illness and it slowly developed into the likes of storytelling and poetry.
I write my newsletter "Morning Inspiration" 3 times a week for souls all over the world in hope that it will offer a moment of awareness and make a moment better than the last.
My book, A Heart's Landscape, offers a collection of inspirations written over a period of 13 years. Each page contains a poem or story that is accompanied by a photo which has inspired me.
As a spiritual counselor, I find myself mostly inspired by the human spirit.
Sign up for my newsletter, Morning Inspiration !
Click here to learn more about my book, A Heart's Landscape
Join me on Instagram or Facebook
I am a regular contributor on Patheos.com, click here to view my recent articles