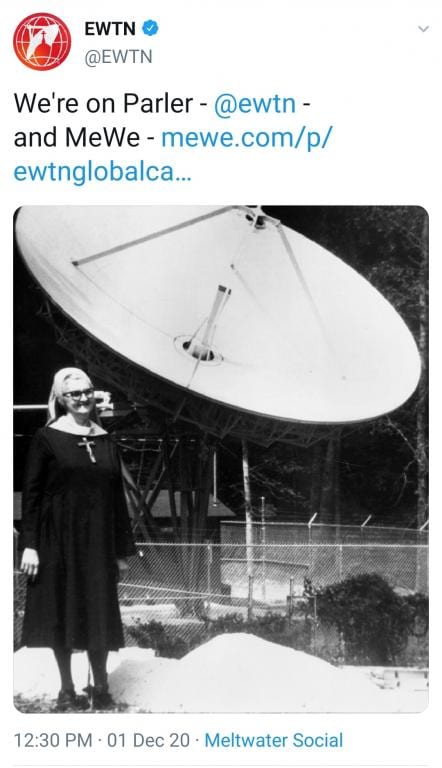 Until recently, I had not been interested in downloading and signing up for an account on Parler, the new social media app popular in right wing circles.
Months ago, there was supposed to have been an exodus of American conservatives, Catholics included, seeking refuge from the "censorship" of Facebook and Twitter, which in the past year or so have been cracking down on accounts sharing misinformation about the coronavirus and American elections, as well as hate speech, violent threats, harassment, etc.
Many of those people who announced their seeking refuge at Parler are, not surprisingly, still pretty active on Twitter or Facebook, so I hadn't thought about Parler all that much until I saw people recently retweeting an EWTN post that the Catholic network has an account on that app.
Find us on P A R L E R – @ewtn

— EWTN (@EWTN) November 11, 2020
That got me curious about what kind of Catholic presence is there on Parler, so I downloaded the app, set up an anonymous account (no, I'm not telling you my handle), and took a look around. Here's what I saw.
EWTN is pretty active there, sharing memes, pictures and links to stories and videos, including its political documentary on Sal Alinsky.
Thanks for following us on Parler! Here's how you can watch "A Wolf in Sheep's Clothing" FREE!

— EWTN Global Catholic Network EWTN Friday, December 4, 2020
Church Pop and Catholic News Agency, which are both part of the EWTN media organization, are also on Parler.
Lou Holtz describes his Catholic faith as "what brings meaning and lasting happiness to life," and his legendary time coaching at Notre Dame was "very special because there were so many opportunities to encounter and live out the Catholic faith." #Catholic #CatholicChurch #LouHoltz #MedalOfFreedom #Catholicism #PresidentalMedalOfFreedom #Catholics #CatholicParler #Christian #Christianity #Christians #football #NotreDameFootball #NotreDame

— ChurchPOP churchpop Thursday, December 3, 2020

 

Elf on the Shelf? How about helping kids live Advent with 'Mary on the Mantel?' Learn more:

— Catholic News Agency CatholicNewsAgency Tuesday, December 1, 2020
The politically conservative advocacy group Catholic Vote shares its campaign messaging there.
Joe Biden has vowed to promote policies directly contrary to the Catholic Faith and harmful to the human person: unrestricted abortion, the closing of Catholic schools, and a war on the family and religious freedom.

— Catholic Vote catholicvote Friday, December 4, 2020
Catholic Answers, the apologetics apostolate, has an account but hasn't posted anything since it opened the account
I just joined Parler! Looking forward to meeting everyone here.

— Catholic Answers CatholicAnswers Monday, June 29, 2020
Catholic Culture shared a few posts, but hasn't been active in recent months
"When activists want to 'eradicate' a problem, they're likely up to no good. …When churchmen presume to 'eradicate' a vice with policies and workshops, the denial of Original Sin looms somewhere at the root of their thinking."

— CatholicCulture CatholicCulture Monday, July 13, 2020
A group called Catholics4Trump – not to be confused with the Trump Campaign's Catholic outreach group of the same name – does the Parler equivalent of a retweet in sharing material from the Proud Boys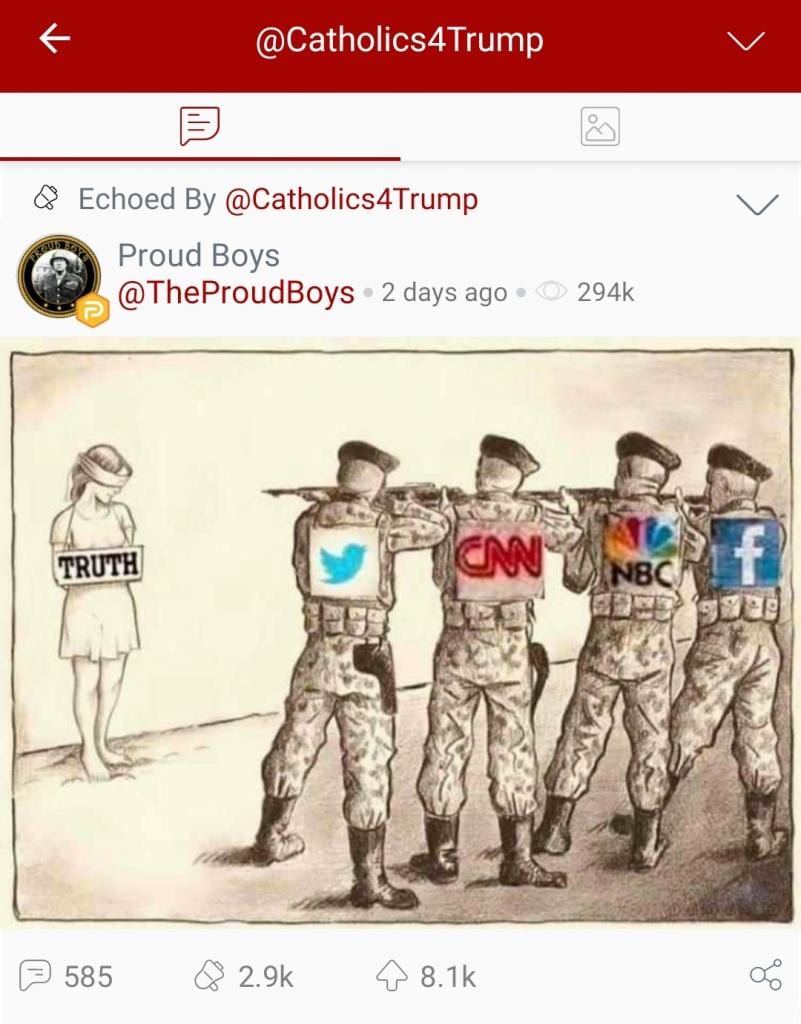 Father Dwight Longenecker, the Catholic priest-blogger/social media provocateur, seems to be just as active on Parler as he has been on Twitter
Did Pope Francis really give Archbishop Gregory a red hat??!!

— Fr. Dwight Longenecker Dlongenecker1 Saturday, November 28, 2020
Fringe far-right outlets like Church Militant and Lifesite are active and share articles casting doubt on the coronavirus pandemic and the vaccines that are under development
After months of lockdown UK govt moves towards telling us when we can have kids After 9 months of saying we can't get married or receive the sacraments, the UK gov't is now dictating when we can have kids. According to the UK government, 'women of childbearing age should be advised to avoid pregnancy for at least 2 months after their second dose' of the Pfizer COVID-19 vaccine. #vaccine #covid #covid19 #covidvaccine #mandatoryvaccination

— LifeSiteNews LifeSiteNews Friday, December 4, 2020
churchmilitant parleyed.

— Church Militant churchmilitant Friday, December 4, 2020
Father Frank Pavone, who is pretty much a surrogate for President Donald Trump these days, does his politicking on Parler.
We are in this fight with you.

— Fr. Frank Pavone FrFrankPavone Wednesday, November 11, 2020
Here's Michael Matt, editor of the far-right Remnant newspaper
I'll be speaking on the Great Reset at this event. Hope to see you at the MN State Capitol tomorrow– Saturday, Dec 5–at noon.

— Michael J. Matt MichaelMatt Friday, December 4, 2020
I only found one Catholic diocese – Charleston, South Carolina – with an official account on Parler…..
#mondaymotivation Father Miguel Pro's last words were "Viva Cristo Rey!" (Long live Christ the King) Today is the memorial of this martyr. / #lunesmotivación Las últimas palabras del padre Miguel Pro fueron "¡Viva Cristo Rey!" Hoy es el memorial de este mártir. #Catholics #RomanCatholic #martyrs #Church

— DioceseChas DioceseChas Monday, November 23, 2020
… while the youth ministry in the Diocese of Charlotte, North Carolina has an account
Please join us in praying for these men and their holiness. Thank you.

— Charlotte Diocese YM CLTYM Thursday, November 12, 2020

Pro-life advocate and culture warrior Abby Johnson shares content from time to time
Defunding Planned Parenthood in Texas. What does this all mean from the 5th circuit court?

— Abby Johnson AbbyJohnsonOfficial Tuesday, November 24, 2020

Given its "free speech" – unfiltered or non-moderated – ethos, you do see some extremist, "out there" stuff on Catholic Parler…..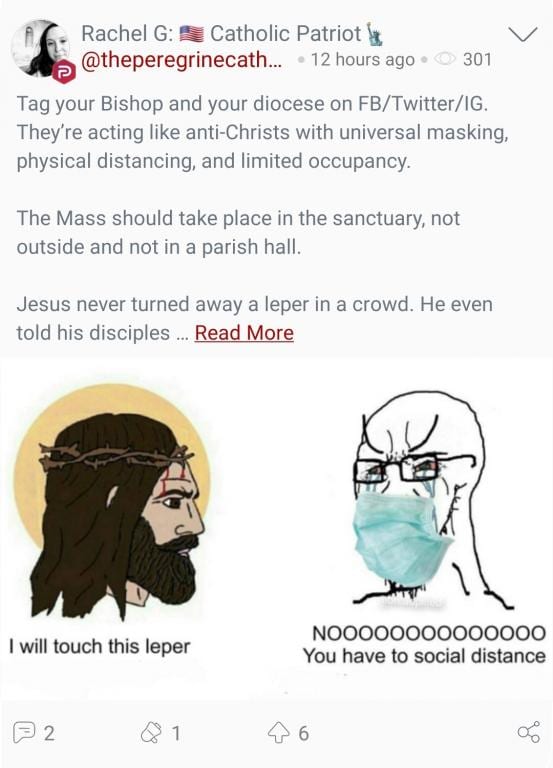 …. But also true devotion…..